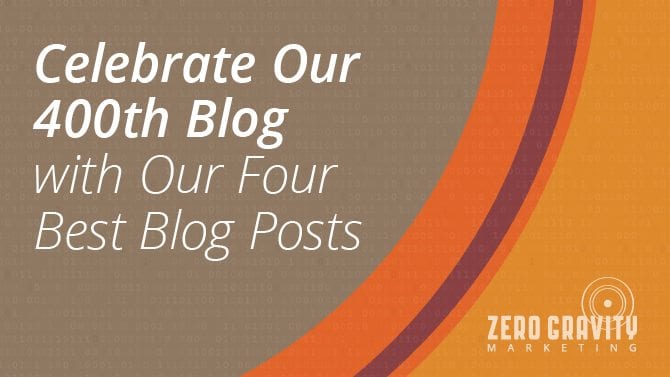 This officially marks our 400th blog. As a digital marketing company, we know how powerful regular, high-quality content can be for your company. Blogs, or articles, are a way to increase your website rankings, earn backlinks, and engage website visitors, and we might not be where we are today without ours. To celebrate the milestone of reaching our 400th blog post, we would like to take a minute to reflect on the 399 articles that have brought us to this point.
Most Conversions: 10 Bad SEO Tactics of Big SEO Companies
Clearly, having to weed out the good content marketing companies from the bad ones can be a challenging task. Our blog tackling this subject struck a chord with many people, and it earned us the most conversions (i.e. after reading this blog, more people filled out a contact form than on any other blog). The article talks about the tactics of shady SEO companies so you can be sure to avoid them. Some of the red flags to watch for include using black hat SEO strategies, keeping their techniques a secret, and making you sign a long-term contract: You won't find any of that at Zero Gravity Marketing.
Read "10 Bad SEO Tactics of Big SEO Companies" here
Attracted the Most New Visitors: Content with a Purpose: SEO Content Writing
There are many ways to attract new visitors, including mentions on other sites, social media shares, and the SERPs. All of these come down to having an informative, intriguing topic that people want to know more about. So it's no surprise that the blog that attracted the most new visitors to our site is one about content marketing. This intriguing article explores our five-step process of writing blogs that will rank highly while also serving a purpose to its readers.
Read "Content with a Purpose: SEO Content Writing" here
Kept People Reading for the Longest Time: Win Their Business with Quality Content
It is important to pay attention to how long visitors are staying on each of your articles because it lets you know if you are doing a good job choosing topics and engaging the reader. Instead of talking about how to write quality content, this blog discusses the reasons why it is so important to produce well-written, educational content for your readers. And clearly people needed to know this information, because the majority of them spent enough time on the page to read through the entire article.
Read "Win Their Business with Quality Content" here
Highest Ranking: How to Get High Quality Reviews
Finally, we are very proud of the fact that we have the number one ranking nationally for the phrase "how to get high quality reviews." The blog that got us that ranking is, as you guessed, all about what you can do to earn the coveted five-star review. It also talks about why these reviews are so important when it comes to your content marketing strategy. Our honorable mention in this category is our article that offers specific content marketing tips for restaurants, which currently ranks number four nationally for the phrase "SEO for restaurants."
Read "How to Get High Quality Reviews" here
If you want to take your content marketing up a notch and earn some top rankings yourself, contact us today. Our Digital Marketing company knows exactly how to get you there—and before you know it, you will be celebrating your 400th blog post.