Google AdWords offers numerous opportunities to ramp up your campaign and reach new leads. Ad extensions, in particular, are valuable, as they expand to provide additional information that potential customers or clients might find useful.
The types of Google ad extensions you use can make a huge difference as you strive for significant gains in key marketing metrics. Not sure where to begin? Check out this Google ad extensions list, which includes a few of the most effective options:
1. Sitelink Extensions
Send internet users to specific pages on your website via sitelinks. If clicked, these extensions deliver users to relevant pages that will tell them exactly what they need to know or show them what they want to purchase. The best part? These ad extensions are easy to update, can be optimized for mobile, and are used in both search and video campaigns.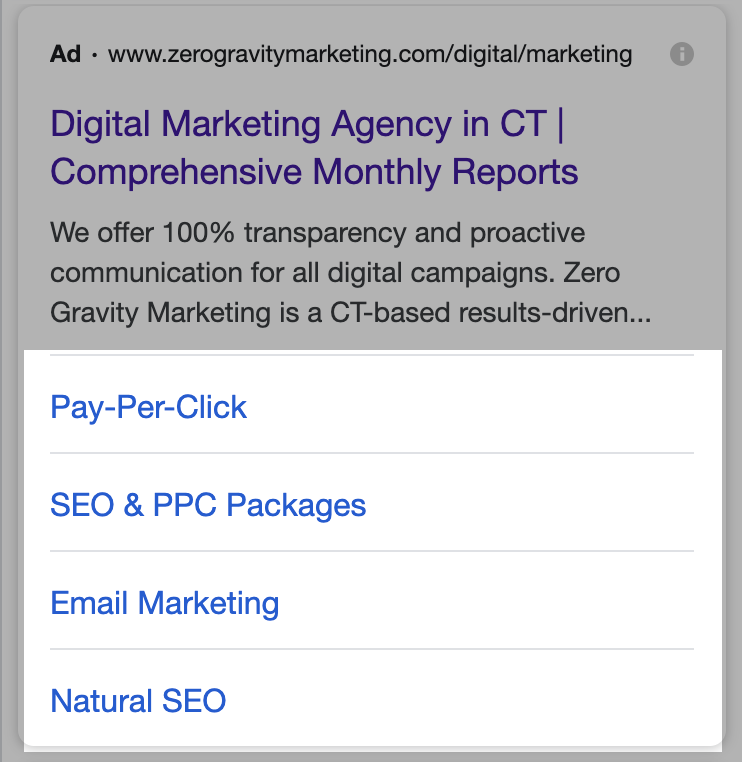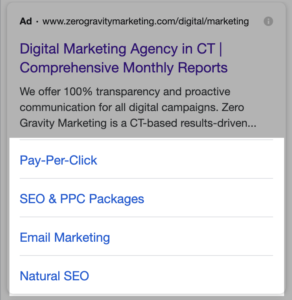 2. Call Extensions
If you're eager for prospective customers to get in touch over the phone, don't hesitate to incorporate call extensions. These instantly highlight your organization's phone number, either by displaying it for desktop searches or providing click-to-call functionality on mobile devices.
3. Location Extensions
These hyperlinked, clickable extensions help viewers determine the physical location of your business. They can also highlight the user's distance from a given locale at the time of searching. This may convince prospective customers to stop in based on sheer convenience. Phone numbers or call buttons can also be included to further improve the practicality of this already useful extension.


4. Callout Extensions
If you're struggling to fit sufficient information within the standard parameters of your ad, consider seeking additional space via a callout extension. This versatile option provides detailed information about your business and offers added insight into top products or services, as well as promotions that consumers might find compelling.
5. Structured Snippet Extensions
A relatively recent addition to Google's ad extension lineup, structured snippet extensions feature brief previews of web content that may entice viewers to click. They're similar in many respects to callout extensions but tend to get more specific. Callout and structured snippet extensions can be used together effectively, so repetition should be avoided at all costs.


6. Price Extensions
Many online shoppers are reluctant to click on links unless they have an idea of how much the highlighted products will cost. Rather than learn more about the businesses offering these products, they'll automatically opt for the site offering the lowest price. Hence, the value of price extensions, which demonstrate your willingness to beat out the competition with affordable offerings.
7. Offer or Promotion Extensions
Search engine users who are on the hunt for discounts appreciate offer extensions, which clue them in on the latest and greatest promotions. Distinguished by price tag icons, these ad extensions may feature discounts or other deals on key products and services.
8. Lead Form Extensions
Boost conversion rates with lead form extensions, which can quickly get prospective clients in the sales funnel. This is an especially vital offering for mobile searches, which unfortunately tend to produce lower conversion rates than their desktop counterparts. With lead form extensions, however, users can enter contact information directly from the search engine results page, rather than being forced to click through to another site and complete an often-clunky lead form process.
Create a Customized Strategy that Fits Your Goals
The sheer variety of available ad extensions makes it easy to customize your search campaign based on your unique needs. Don't hesitate to experiment with different types of extensions to determine which are most capable of boosting brand awareness, website traffic, and conversion rates. You'll be surprised by the extent to which top extensions can transform your search campaign.
Are you determined to ramp up your Pay-Per-Click efforts? The team at Zero Gravity Marketing can help you implement a variety of effective solutions to improve ad rank and other marketing essentials. For more information about our services or to speak to one of our paid media specialists, contact us today!