So, you've nailed Google search engine optimization (SEO), right? That's great! But if you're in the business of selling products, there's another SEO beast you need to tame: Amazon SEO. Yes, the world's largest online store has its very own SEO game, and it's crucial to learn its rules to make it big on this platform.
However, the Amazon SEO rulebook isn't exactly a mirror image of your standard SEO guide. Here, you need to prove to Amazon that your products are hot sellers and they match what people are searching for. So, the million-dollar question is: How do you get your products to take center stage, and what's the cheat sheet for acing Amazon's best practices? Let's dive in!
How Does Amazon SEO Work?
If you sell products, you know Amazon is one of the prime real estate spots for consumers. But how exactly does Amazon SEO work? Well, think of it as sprucing up your product listings to climb up the ladder in the retailer's search results. For example, let's say you're selling running shoes. You'd want your sneakers to pop up first when someone searches for running shoes, right? That's exactly what Amazon SEO helps you achieve – it drives traffic to your listings, amplifies your brand's visibility, boosts your business growth, and ramps up conversions.
But how does Amazon SEO pull this off? Much like Google, Amazon uses its own unique algorithm to power its search engine. This algorithm (A9) also depends heavily on keywords to dish out relevant search results, similar to our friend Google.
However, unlike Google, the A9 algorithm is all about sales volume. This means you could jam-pack your product listing with all the right keywords, but if your sales are barely trickling in, you won't be topping the charts. The ideal scenario? Your products not only pop up when people search but they also get snapped up fast.
So how do you find the perfect mix? The following are the most important factors in the A9 algorithm: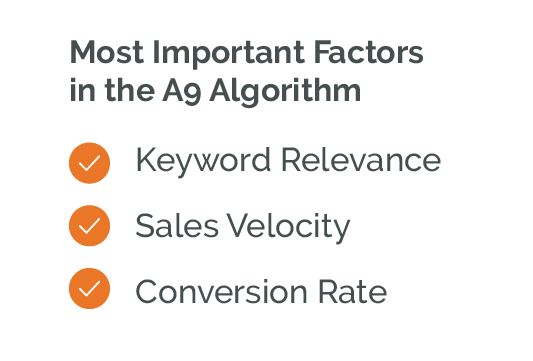 The algorithm also considers product price and stock status when ranking listings. If your product is priced way higher or lower than similar ones, it'll rank lower. If it's showing as out-of-stock, it'll fall in the rankings, too.
Why Is Amazon SEO Important?
Amazon SEO is important because it can make or break your success as a seller on the site. If your products don't appear near the top of the results or close to the first page, how can you expect anyone to order them? Ranking low in Amazon's results creates a vicious circle, as you need a good sales velocity and conversion rate to keep ranking highly.
Tips to Rank on Amazon
Amazon operates on conversion rates; it's all about clicks converting to sales. To secure a prime spot in the retail titan's eyes, your SEO strategy should accomplish two essential tasks. First, you need to establish that your product is a reliable seller. Second, it should unequivocally demonstrate that it aligns with consumer search queries. In short, your product's sales performance and relevance are key to mastering Amazon SEO.
Factors That Prove Your Product Sells
Amazon looks at several factors to determine if there's demand for your product and if people will buy it once they see it: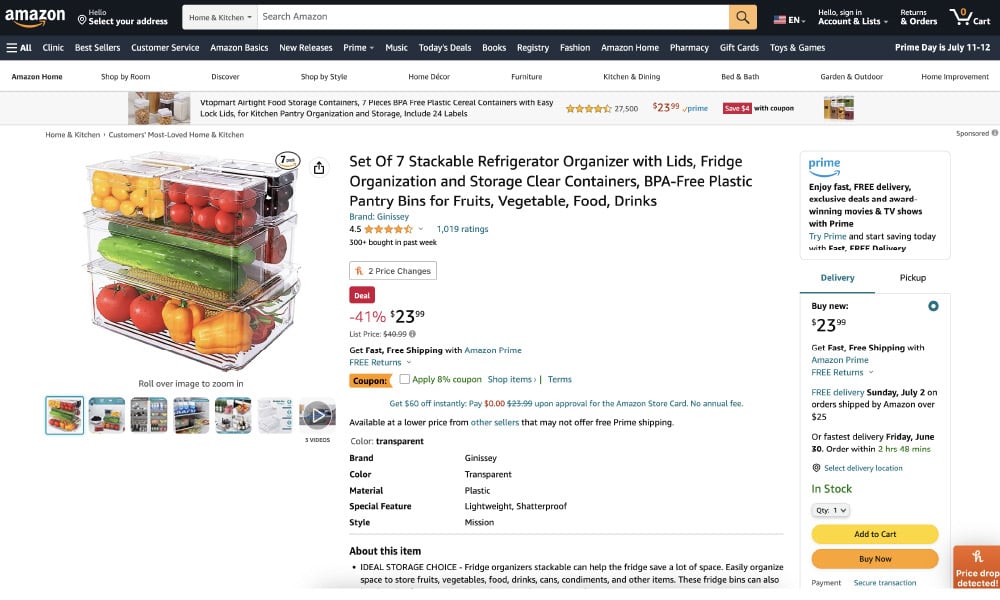 Images – Shoppers are likelier to click on a product with high-quality images. Include as many images of your product as possible in the listing, showing it from all the different angles. Also make sure to follow Amazon's image guidelines of 1000×1000 pixels so that shoppers can zoom in for a closer look.
Reviews – Does your product work or do what it claims to do? Is it a good value? People read reviews to get the real story, so it's important to have as many 5-star reviews as possible (without cheating). Once someone purchases from you, ask them to leave an honest review on the site. Note: You can't ask people to leave a positive review.
Sales Rank – The more you sell, the higher you rank on Amazon. Simple as that.
Price – Price your products competitively to rank favorably on Amazon. Trying to offer an amazing deal or undercutting your competitors can actually backfire on you in the form of a lower ranking. People are also less likely to buy an over or underpriced product, further impacting your search ranking.
Factors That Help Prove Your Product Is Relevant
Next, show Amazon that your product is relevant to people's search queries. This is where the nuts and bolts of Amazon SEO come into play. Factors that demonstrate product relevancy include:
Product Name – Create a title or product name that tells shoppers what you're selling and what they'll get. Work your keywords in and include the brand name, product description, size, and color.
Bullet Point Descriptors – Bullet points are easy to skim and help people quickly find the details about your project. Make a bulleted list of all the relevant product info, including size, color, function, and battery requirements.
Keep it Short – You're limited to 50 characters in your search terms, so keep things short. Also, refrain from repeating yourself or misspelling words, even if people commonly do.
How to Optimize Your Product Listings
Here's what you can do to maximize your Amazon search presence.
Look at Competitors – It never hurts to look at what your main competitors are doing so you can come up with better, alternative ideas.
Join Fulfillment by Amazon – Amazon ranks sellers more highly when they're part of Fulfillment by Amazon. Becoming a Prime seller also boosts your rankings.
Use Attractive Images – Don't just snap a photo of your product and call it a day. Stage it in an attractive setting so people want to click through and learn more (and hopefully buy).
Ask for Reviews – Don't be shy about asking customers for honest reviews. The more good reviews you have on Amazon, the higher your rankings. And, if a customer leaves a bad review, you can see that as a learning experience.
Keep Your Products in Stock – Out-of-stock products fall in the search results since no one wants to buy something if it's unclear when they'll receive it. Use inventory management to keep your products well stocked and to communicate if anything is limited or out of stock.
ZGM Can Help Improve Your Amazon SEO
If you need help ranking on Amazon, it may be time to hire an SEO agency. Zero Gravity Marketing is a digital marketing agency that offers a wide range of services, including SEO. To see how we can help boost your Amazon SEO, contact us today!