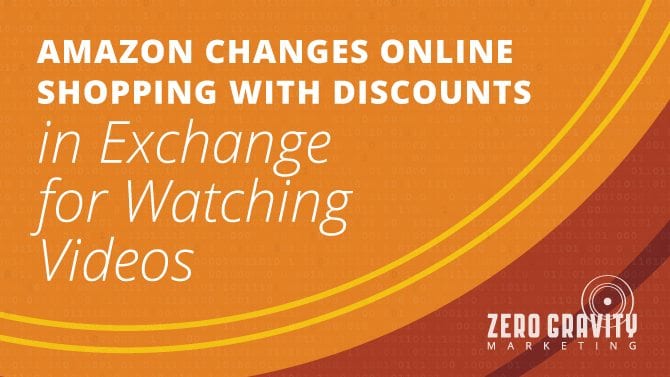 If you have ever use a free app on your phone, chances are you have voluntarily watched a video in exchange for something in the app, whether it be more points, extra features, or virtual funds to spend. Well, this form of marketing is about to become mainstream on Amazon—and they have a patent on it.
How Amazon's Patent Works
Amazon has received a patent on "content-based price reductions and incentives", which essentially means they can offer their customers a discounted price in exchange for a view of a promotional video, which could be anything from a product review to a how-to video, to a commercial-type ad. The exact way it will work is unclear, but many experts speculate that as the customer watches the ad, the price of the item drops. The thought is the longer the time commitment is on the side of the customer, the greater their discount could be.
Benefits of Exchanging Videos Ads for Discounts
This is actually quite a brilliant move an Amazon's part. Most customers will be willing to watch a short video for some instant savings, but they will also be receiving information about other products that they might purchase, and they will learn about new brands they might not be familiar with. So the savings they initially receive may actually result in them spending more money on the website.
What We Can Do with Video Ads
As of right now, it is unclear exactly how strong Amazon's patent is to offer discounts for watching videos. In our opinion, we think the patent covers the delivery of Amazon's discount, and the terminology they use. So no other online retailer will be able to have the price literally go down as a video is viewed.
However, there are many similar options available that we can incorporate into other ecommerce websites. Any WooCommerce site has the option of a plug-in that allows you to reward the users points that can be applied towards their payment. You can choose to offer points for reading a blog post, watching one of your vides, clicking on your links, filling out your forms, and more. You have complete control over the amount of points earned and how many points equal a dollar.
Amazon is clearly onto something when they offer discounts for watching videos. It is a true win-win in Digital Marketing. Amazon wins because the customer will probably buy more products, and the customer wins because they scored a discount for a few minutes of their time.
If you want to learn how to use video ads to your advantage in a similar way (that doesn't infringe on Amazon's patent, of course), contact Zero Gravity Marketing today.