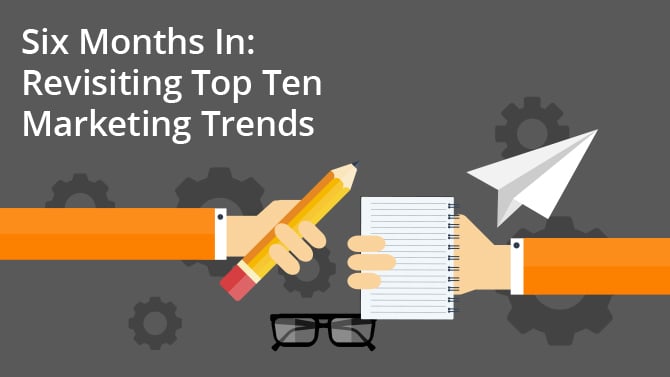 Digital marketing moves fast. 2014 was the year of social media marketing and that influence continues to be strong. But, this year has offered its own developments and trends and savvy marketers have done well to keep up. Halfway through the year, these are what we're finding are the top trends for B2B SEO in 2015:
1. Content is still king.
If anything, content is more important than ever. But, it's no longer about hitting keyword densities and fetishizing SEO. Winning content is high quality work that surfers want to read. Answer questions, give tips, provide worth.
But, it's also more important than ever to measure effectiveness. Analytics matter; companies want a good ROI on their content marketing investment. Content that converts is the content that will win.
2. Marketing personas are important strategy.
It does no good to spew out random content that does not speak directly to customers. Personas allow you to understand your prospects and to directly address their desires, pain points and needs.
3. Automate everything!
Automation allows you to give surfers a more personal experience while not duplicating your time investment in creating marketing materials. By creating assets that can be delivered in real time, you can nurture leads without intensive hands-on involvement before it's needed. Automation also allows you to segment your marketing to ensure that everyone gets exactly the right materials to coax them through the sales funnel.
4. Mobile dominates.
In mid-2014, Google began warning that mobile search would soon eclipse desktop. While mobile still only accounts for about a third of all search engine traffic, it has a far higher share of traffic that counts. Half of all local mobile search engine queries result in a visit to a brick and mortar store. Google is 100% behind the mobile revolution, even making mobile-friendliness a requirement for good ranking in the SERPs.
5. The merging of sales and marketing.
Sales and marketing have, historically, been at odds. But now, more companies are bringing these departments together in an arrangement known as "smarketing." Some departments merge completely while others work together more closely.
6. Personalization and micro-targeting.
Personas and automation meet at highly personalized, highly segmented marketing. While this can be more resource intensive, the return on investment makes it worthwhile.
7. Paid placement gets a place at the table.
Many marketers do not relish the idea of paying for eyes on their content. But, platforms like Facebook have made it increasingly clear that you will have to pay to play. Sponsored content and targeted ads are, for now, just part of doing business.
8. Analytics rocks.
Until recently, content marketing was more art than science. But now, with more detailed information about surfer behavior, businesses can tell which of their efforts are effective and put far more time into the content that converts. This means better return on investment and less money spent on avenues that don't pan out.
9. Clear and documented content strategies.
It's not enough to throw some content on a blog and update social media whenever you have time. Content marketing is now a long game. Strategies should be developed at the start and teams should follow through on long-term campaigns with clear goals.
10. Everything old is new again.
Marketers are rediscovering areas that were considered old hat. email marketing is making a comeback. Traditional marketing is finding new life paired with online assets.
Marketing continues to change and develop. By keeping up with what works best, you can continue to extend your reach and win an audience for your brand. Stay ahead of the curve with Zero Gravity Marketing.