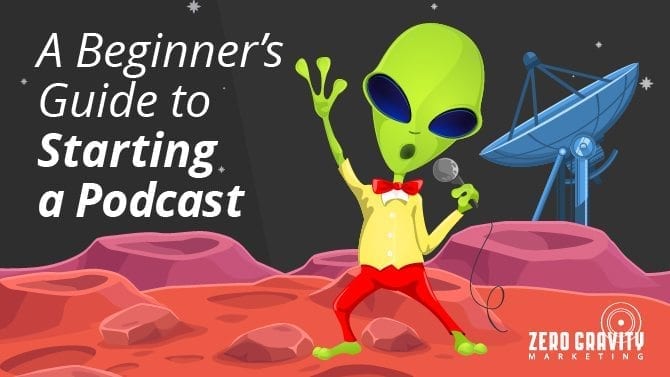 Even though podcasting has been around for over a decade, with the advancements in mobile technology and Wi-Fi-enabled vehicles, this marketing stream is just now beginning to gain momentum. If you are thinking about using podcasting to increase your brand awareness and grow your audience, here are the four steps you need to follow to get started:
Do Your Pre-work 
Before you even think about pushing record, you have some crucial steps to tackle:
Choose your niche. If you want to be successful in podcasting, you have to have a specific subject that you cover in order to attract a targeted audience. Then, each podcast should cover a new topic in that niche.
Purchase the basic products you need to create a podcast, including a microphone, mixer, and a computer. While most desktops have built-in mics these days, you will want to select a noise-cancelling external one to give your audience the best audio possible.
Pick which podcast software you are going to use, such as Garageband on Macs or Audacity for Windows.
Record Your Podcast
Now that you have the equipment you need, you need to record your podcast using these steps:
Get your content prepared. Unless you are really good at impromptu speaking, an outline is highly recommended to keep the content flowing.
Test the software to make sure everything is functioning as it should.
When recording the audio, make sure to talk in a clear, yet exciting, tone so people stay intrigued while listening.
Save the completed audio file in an MP3 format so you can easily upload it.
Upload Your Podcast
Once the podcast is recorded, you need to get your amazing work out there. The best way to do this is to create your own RSS feed (i.e. blog) on your website, upload the podcast, write up a brief summary of what you talked about, and then publish it. When uploading the podcast, make sure you tag it using keywords and include album art to catch people's attention.
Get Your Podcast Heard
Now it's time for the most important part of podcasting: getting it heard. The best way to do this is to use podcast SEO to make your podcasts searchable. Include keywords when uploading your podcasts, and post each podcast as its own blog for even more visibility. You also need to invest some time into promoting your podcast through social media channels and your own website. You could also implement commercials into your podcasts to generate some extra revenue, just make sure you don't overdo it and turn-off your listeners.
We are committed to staying ahead of the marketing curve, and we have a feeling that podcasting is quickly going to become a must-have aspect of many marketing campaigns. To learn more about starting your own podcast, or to market on someone else's, contact Zero Gravity Marketing now.