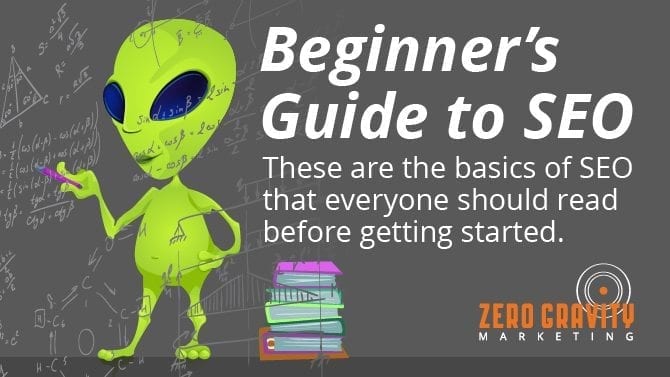 Every website wants to earn a top spot on Google, and the only way to do this is with a strong SEO campaign. However, SEO (search engine optimization) is not as simple as publishing a few keywords and hoping for the best. At Zero Gravity Marketing, we have written extensively about the topic of SEO. These are the articles that cover the basics of SEO, and everyone who is new to search engine optimization should read them before getting started:
What is SEO? – Before putting together a comprehensive SEO strategy, a company must understand what SEO is and why they need it. This article talks about the basics of beginner SEO, and it is the perfect starting point.
The 10 Best Onsite SEO Tips – A strong SEO campaign begins with onsite SEO. Onsite SEO includes all of the things a company must do within their own website in order to achieve high rankings on Google. From title tags to internal linking to a technically sound design, this blog examines the essentials of onsite SEO.
Content with a Purpose: SEO Content Writing – As learned in the previous blog, publishing high-quality, consistent content is a key element of an SEO strategy. This article explains more about the writing process and what really constitutes quality content.
What Matters When It Comes to Off Page SEO – There is a lot more to beginner SEO than just optimizing a webpage. This blog discusses the other factors that a brand must consider in order to rank well.
SEO Link Building Rules for 2016 – Link building remains one of the strongest ways to boost performance on the search engines. In this article we talk about the four rules that must be followed in order to maximize the effects of link building.
Best SEO Tools Marketers Should Use – While SEO can all be done manually, it gets a lot easier to manage and complete with the help of SEO tools. This blog compiles all of the best websites/software available to help a marketer make the most of their SEO efforts.
Black Hat SEO Tactics – As important as it is to learn the correct way to use SEO, it's equally crucial to understand what can result in a penalty. This article goes over the black hat SEO tactics that should always be avoided, such as link purchasing and stealing content.
Common SEO Misconceptions – Visit this blog to learn about some of the fake SEO information that is going around. Does the number of website visits affect rankings? Are meta descriptions factored in by Google? How important are keywords?
Contact us today to learn more about our SEO services.