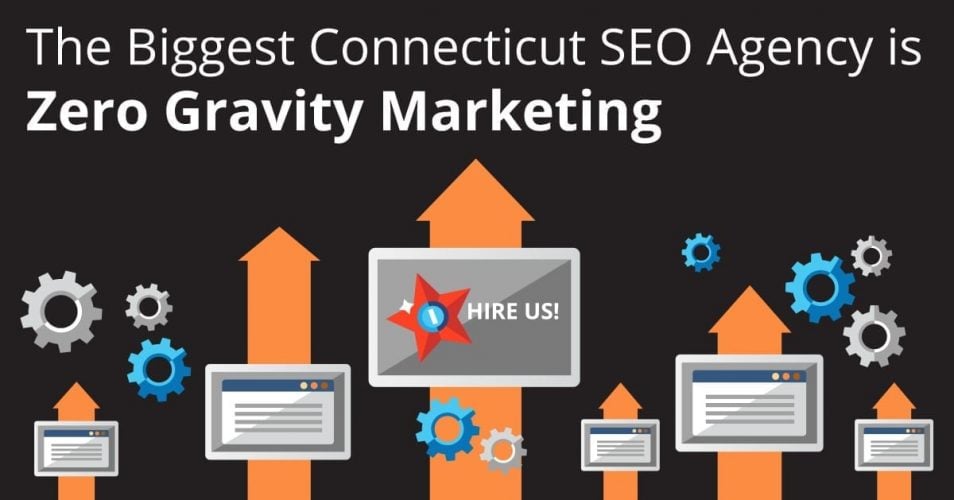 Zero Gravity Marketing is the biggest Connecticut SEO agency, with the largest SEO team in Connecticut. We have helped corporations achieve and maintain coveted search engine rank since 2003—back when SEO was an innovative, new (and mostly unheard-of) science. What does working with the biggest Connecticut SEO Agency mean for you? It means our SEO services are backed a large team of experienced, specialized SEO professionals that put your business's success in the forefront—a team that no other SEO agency in Connecticut can compete with.
 Biggest Connecticut SEO Agency Services
No single marketing agency can be the best at everything (even we have faults) but not when it comes to SEO: search engine rank, PPC campaigns, analytics and viable results. As the biggest Connecticut SEO agency we know each aspect of your SEO strategy is being taken care of by a specialist. That's why our clients are regularly seen in the #1 spot for specific keyword terms on the search engine results pages (SERPs), and many have doubled or tripled site visitors and conversions since opting in. Companies like Citi and Home Depot

rely on our team members for their SEO needs—they want the best, and they get it. From inception to completion to maintenance, here's a look at a few of the things our SEO/SEM packages cover:
The Benchmark Report – A Zero Gravity Marketing exclusive! Our benchmark report is an in-depth, comprehensive report where we provide extensive keyword research and a thorough analysis of your website, current SEO efforts, and even your competitors.
Implementation Plan – We lay out your roadmap to success. This includes the keywords, title tags, and META descriptions that will improve the rankings of each page on your site. Additionally, you will receive a suggested content and link building plan and recommendations to increase your conversions. Finally, we will point out any necessary changes to your site's code and paint a picture of what a PPC campaign could do for your business.
Keyword Research – This is vital, and if you aren't targeting the right keywords, you will never see growth. As the biggest Connecticut SEO agency, our experience has taught us what phrases work, and which you should avoid. Our SEO team knows what to look for and what keywords to target so you can reach and maintain rank.
Content Management – A crucial part of any natural SEO campaign is to post regular, well-written, relevant content. Our content developers craft ideal topics to draw your readers in and keep them coming back for more.
PPC Ads – From developing the strategy to writing the ads to managing the results, our PPC campaigns are the perfect complement to your natural SEO efforts. We will always be transparent in our techniques and we promise results.
Remarketing Campaigns – Have you ever visited a website, only to have their products show up in your banner ads for the next few days? This is called remarketing, and we can use it to help you improve your conversions.
Analytics – No SEO campaign is worthwhile without properly analyzing the results and making tweaks to your strategy accordingly. Just in case there was any question, yes, our analysts are the best around.
Local SEO – If your target market includes local residents, local SEO is a must. We register your business with local listing sites, and then build up web references so that when your local keywords are searched, you show up.
Video SEO – Have you considered ranking highly for videos? We know how to optimize your videos so you can finally show up for those seemingly impossible keywords.
Link Building – In addition to the topic creation and content writing, our SEO team ensures that you have a strong link building strategy to show the search engine that you know your stuff
How We Do It
When you hire the biggest Connecticut SEO agency, you expect results, and we deliver them. By combining the amazing talent of our specialized team with the technology of the best SEO tools out there (Moz, CallRail, Hubspot, Screaming Frog, and more), we are able to get you the impressive outcomes that other SEO companies can't compete with.
The biggest Connecticut SEO agency works with complete transparency, which is a key element to our success. Comprehensive monthly reports show you exactly where your marketing dollars are going. Additionally, we only use bona fide white-hat SEO strategies. Black-hat SEO strategies, on the other hand, can make website listings suddenly drop from search results, and make your company look "spammy." Those methods usually never lead to increased sales or more clients, they just provide website visitors but not much else. As the biggest Connecticut SEO agency, every dollar is invested to bring you the biggest ROI, for long-term, viable growth. Not only that, but we are pretty fun to work with, if we do say so ourselves.
When you are ready to see real growth, you need to partner with the biggest Connecticut SEO agency, Zero Gravity Marketing. We get you the results you need to catapult your business to the next level. Contact us today for an SEO review so we can show you exactly what we can do for you. What are you waiting for?