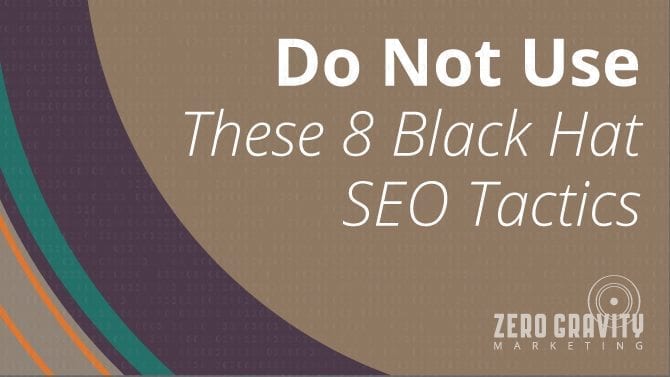 Some SEO practitioners try to cheat the system with black hat SEO tactics. Google knows all about them and how to spot them, and if you attempt these you will face severe repercussions.
Stuffed Keywords – Keywords are still necessary to let Google know what your site is about, but they should be natural and sparse—never just stuffed in to up the density.
Over-Optimized Internal Links – Internal links are a great way to give yourself link juice, but make sure your anchor text is natural and written for the readers.
Privatized Blog Networks – Purchasing domains that used to be popular to link to your own website is a big no-no, and Google will catch on.
Spun Articles – Whether done through automation or manually, never just spin already existing content. Everything you post should be 100% unique to avoid duplicate content penalties.
Doorway Pages – Creating fake pages with the only intention of ranking and then forwarding your visitors on to another page is not only deceiving, it can get you in big trouble.
Effective and Ethical SEO Trends
Now that you know what SEO tactics to avoid, here are a few current SEO trends that are effective and ethical—the only kind of SEO we use at Zero Gravity Marketing.
Landing Pages – By creating targeted landing pages instead of just a generalized homepage, we can increase your conversion rates dramatically.
Responsive Design – With a mobile-friendly design, we can improve your bounce rate and increase your search traffic.
Internal Linking – By linking to your own landing pages and blog posts (not just to the homepage!) you can show Google the depth of your site and improve your rankings.
At Zero Gravity Marketing, we are experts in ethical SEO practices, and we avoid black hat SEO at all costs. To get a free SEO audit to see how we can make SEO work for you, contact us today.