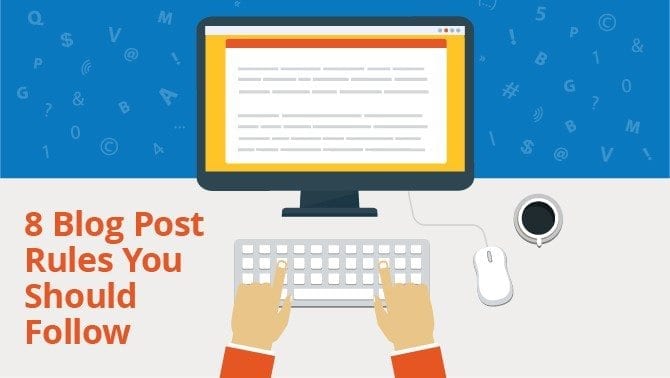 Top 8 Blog Post Rules You Should Follow
Wouldn't it be great if you could just write a blog, post it, and see your search rankings soar? Unfortunately, this is not the case. Not even close. While the blog itself is undoubtedly important, there is a lot more behind-the-scenes content marketing work that needs to be done if you want to capitalize on your efforts. Here are blog post rules you should follow in an easy-to-read, easy-to-follow format.
Step 1: Do Keyword Research
Okay, technically you should do this before you write the blog, but you can always do it afterwards and incorporate them in if need be. Basically, you want to find keywords that are being searched for, but you don't want the most popular ones because you will have a much harder time showing up on the SERPs. The perfect keyword has a high number of searches with a small amount of competition. It sounds complicated, but Google's keyword tool will help you with this key element of content marketing.
Step 2: Write a Compelling Title Tag
You want to use your keyword phrase at the beginning of the title when possible. However, crafting a title that people will actually click on is also a priority. Try your hardest to meet both of these requirements, and try to keep it under 70 characters, since that is all that shows up on the SERPs. Your title tag should also be unique to that page: If you use the same one as another page you will just confuse the search engines.
Step 3: Craft a Click-Worthy Meta Description
Next up on our blog post rules book is the meta description, A.K.A. the little snippet that shows up under your title on the SERPs. While keywords do not matter, you better succinctly (as in, under 160 characters) explain exactly what the reader will gain by clicking on your link. Even though it doesn't affect your SEO, the meta description does determine whether or not a reader clicks through, so it is way too important to overlook.
Step 4: Compose a Keyword-Rich H1 Tag
The H1 header is basically another title tag; however, it does not show on the search engine results page (SERPs). That being said, it reigns supreme once the reader actually gets to your page. So, yes, keywords in an H1 tag still matter for rankings, but readability is a must. If possible, you should also include your keywords in your subheads, as long as you can do so without making it too obvious.
Step 5: Choose Intriguing Images and Include ALT Tags
Images are a must on any list of blog post rules. For one, they make the page more interesting to look at, but more importantly, they liven up the link when you share it across social media. However, it is vital that you take the time to write an ALT tag when uploading the picture. Basically, the ALT tag is what will show up if someone has images disabled on their screen, and it is what is read if they are using a screen reader. More than that, it is also considered when Google crawls your site. Your ALT tag should clearly describe what the picture is about while including your main keyword.
Step 6: Make Sure You Have Used Your Keywords Enough
When proofreading your blog, do a quick check to make sure you have incorporated your keywords enough times that they will stick out to Google, but no so much that you will be penalized for keyword stuffing. Yes, it's a fine line, but as long as it's not obvious to the reader what your keywords are, then you are fine. During this content marketing step, you should also make sure you have enough paragraphs that your blog comes across as easily readable. Between three and seven paragraphs seems to work the best.
Step 7: Include Links to Other Blogs
Even though your better content marketing goal is to receive inbound links, outbound ones will also increase your credibility. Choose high-quality sources to link to, and always make sure the link opens in a new window instead of taking the reader away from your page (because that's exactly what you don't want).
Step 8: Tweet and Share
Finally, you need to spread the word about your blog. Sure, all of your behind-the-scenes work will likely gain you some organic traffic from the search engines, but it would be silly not to let your existing fans know that you have posted a new blog. Twitter and LinkedIn should be your first two stops, and then you can head on over to Facebook, Pinterest, and Google Plus. The more exposure you can get, the better. Every share puts you in front of another potential client, and isn't increased sales or leads really the point of it all?
Contact Zero Gravity Marketing for content marketing management.