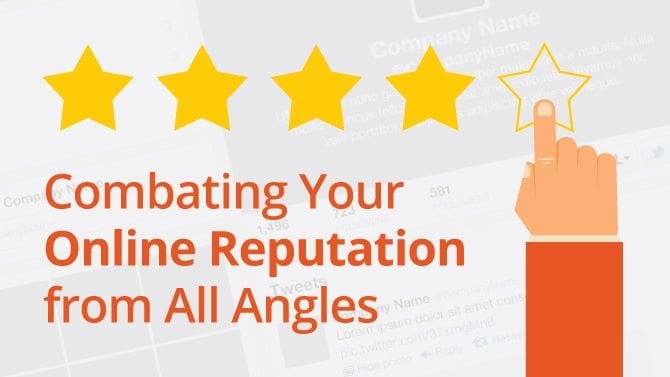 Everyone makes mistakes. Yes, even you. And when you're trying to manage your reputation online, one innocent mistake can wreak havoc on your business. Sometimes you have to deal with competitors who get joy out of bashing you online, and other times you just accidentally made the wrong person mad and their new life mission is to destroy your reputation. Luckily, there are things you can do to make these people and their ill intentions go away.
Have an Active Defense
You may not have control over what people say about you online, but you do have control over how well your own posts rank. Your goal is, and always should be, for your website and blog (each page can rank individually) to be the first things that appear whenever your brand name is searched. If you can do this effectively, one negative comment or review will not even make the cut and will oftentimes go unnoticed. Here are some tips to make that happen:
Gain Complete Control – Your username on all of the social media sites should be the same so that no one else can snag one up and taint your name. Before even signing up for one account, check the availability on all of them to ensure you can be consistent. And then, at the very least, you need to set up completed profiles on each one (Facebook, Twitter, LinkedIn, Pinterest, Google +, etc.) so that you appear professional if searched for.
Optimize Your Website – You know that you need to optimize your blogs and website for your desired keywords, but is your site also optimized for your brand name? Instead of speaking in the first person throughout your content, use third person occasionally to ensure that your sites are the ones that will show up when someone enters your company name in a search engine.
Monitor Regularly – You also need to perform searches for your brand regularly. Some experts believe once per month is enough, while others strongly encourage once per week. You never know when a negative comment is going to arise, and you need to combat it immediately.
Don't Forget to Play Offense
Of course, your best bet is to not have to worry about bad comments and reviews in the first place. But, since you can't make everyone happy all of the time, you need to be prepared to take the offense as well. Here's how:
Respond Quickly – Obviously, if the negative comment is on your own page, you can just delete it. But if it's on someone else's, it's not that simple. You can always ask the site moderator to remove it, but that usually doesn't work. However, you can probably leave a reply yourself. Explain your side of the story and stay positive and heartfelt.
Rally the Troops – If the negativity you are facing is a review on a site like Yelp or Amazon, the best thing you can do is ask your loyal customers to leave reviews for you. You can't ask them to write positive reviews, because that's illegal. But you can choose whom you ask wisely. These new reviews will push the negative ones down so they will no longer be relevant.
---