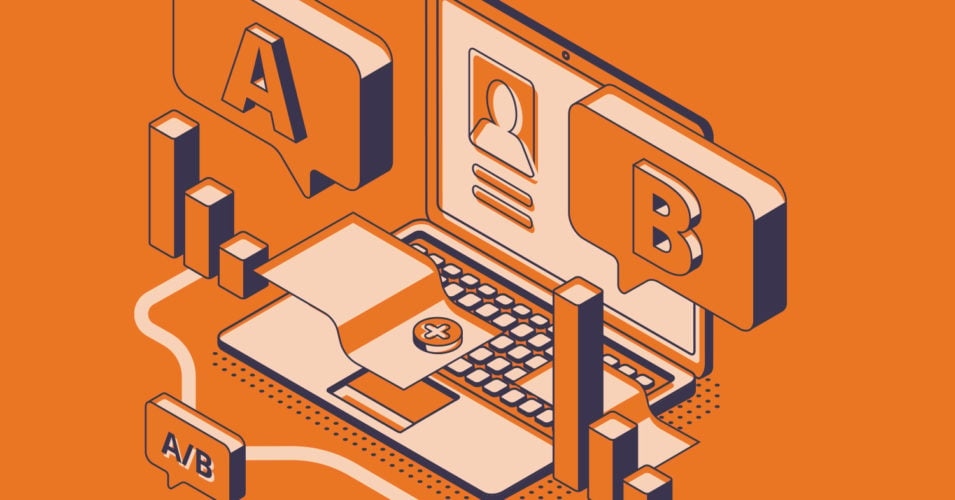 You've probably heard of A/B testing for landing pages, but did you know you can apply this same effective testing technique to your email marketing campaigns? At its core, A/B testing is simple. You send out one email to your customer list (Test A), then make a minor adjustment and send another email (Test B). The email that results in the most clicks and conversions is the one that you should send on a full scale.
It sounds easy — and really, it is — but there's a bit more that you should know about A/B testing and email marketing campaigns.
Email Marketing 101
So, what is email marketing, anyway?
In short, email marketing is the process whereby you send commercial messages to your existing, past, or future customers in ways that land in their inboxes. The process includes advertisements, requests for business, and solicitations of sales or donations. 
Here's the thing — if you create your email lists well, you can create targeted and personalized messages that speak directly to your buyers when they're at the right points in their customer journeys. This, in turn, helps facilitate meaningful relationships with your customers so you can be a better brand in their eyes. However, it's important to be mindful and that you don't overuse email marketing. This can cause burnout on your customers' side of things and make them wary of your brand moving forward. 
Are you wondering how to do email marketing correctly? Don't worry! We've got you covered! Here are a few key ways you can make great things happen for your next email marketing campaigns:
1. Establish Your Goals
Sure, it's tempting to just sign up with an email marketing tool and hit the send button, but you need to put a little thought into the endeavor before you go all out. Know what you're trying to do before you get started. Do you want to drive new traffic to your website? Entice new customers to make purchases? Generate new leads for your sales team? Get more donations for your cause?
Email marketing is incredibly powerful, but any email marketing expert will tell you it's important to identify what you're trying to achieve before you get going.
2. Build Your Email List
If email is the way you intend to keep in touch with your customers, you need to build out an email list that contains as many important details as possible. However, before you import your list into your CRM, make sure you have adequate permissions to do so.
3. Select the Types of Campaigns You Want to Send
Have you ever wondered why email marketing is important? Well, it allows you to reach out to people in the place they spend the most time: their inboxes. You can use newsletters, marketing offers, announcements, and event invitations to help people understand who you are and why you're important to their lives.
4. Create Your Campaigns
As you create your campaigns, here are a few tips to follow:
Structure your campaign for easy reading.

You only have a tiny window to make a huge impact. Create your content with the idea of scanning in mind. Don't write long diatribes with heavy text; instead, break your content up with bullets, photos, and videos.

Personalize your email campaigns.

Your readers are more likely to respond to the content you're sending them if it's specifically relevant. Customize campaigns based on the segments you've created to maximize engagement.

Make it easy to convert.

You need to have a strong call-to-action (CTA) for your email campaigns to be as successful as possible. While the wording you use is important, you also need to ensure you're reaching people on all platforms and devices.
Test One Specific Variable
To understand what works and what doesn't, you should only test one variable between the two different emails. For example, you might use one type of call-to-action in one email and a different call-to-action in another. The data you collect will show you which call-to-action generates a higher conversion rate from that specific email marketing campaign. Other variables to test with A/B testing include the headline or subject line that you use, the offer included in the email, the time or day the email is sent, or whether or not you should add testimonials to the email.
Know Your Goals for Email A/B Testing
Check results from previous email marketing campaigns. For instance, if you have a 5% conversion rate from previous email marketing campaigns, you may want to establish a goal of earning a 10% conversion rate after you complete your A/B testing. 
Collect Data and Evaluate the Results
Tracking the results of your A/B testing is often the most interesting and exciting part of the process. You should be noting the email open rate that you receive for each different version, as well as the click-through rate (CTR) and the conversion rate. Ideally, you will want to work with the email test version that shows the most significant conversion rate — these are the actual customers you are earning through the email. However, an increase in open rates and click-through rates is nothing to ignore. A/B testing can help you figure out the best email marketing strategy for your business.
The best time to do A/B testing is early in the development of your latest email marketing campaign. However, you can do A/B testing as often as you want, and you'll only continue to hone your strategies and techniques. Email marketing is just one important component of your overall marketing strategy. Marketing automation can help you receive and analyze your results quickly and efficiently. You just need to make sure you have the tools on hand necessary to deal with the data.
Why You Need ZGM
At Zero Gravity Marketing (ZGM), we can help you with A/B testing, your email marketing campaigns, and your entire marketing strategy. We're known to be the best email marketing service in CT. Contact us today to find out more!