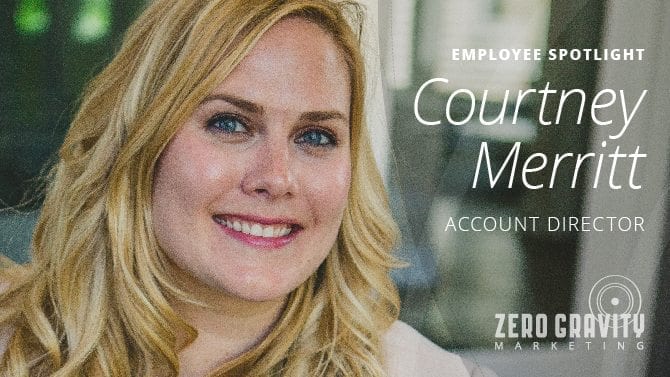 Zero Gravity Marketing has risen above the competition to become a top digital marketing firm in Connecticut, and we credit it to our unique, diverse team. We appreciate every player, and we know that without him or her, we wouldn't be the successful marketing firm we are today.
With this in mind, we have launched an Employee Spotlight initiative. Our hope is that, as you learn more about each of the talented individuals at our marketing firm, you will gain further insight into why we are so great together.
Today, we are thrilled to introduce Courtney Merritt, Account Director. We have asked her a few questions to provide an insider's look as to what makes Courtney tick. Enjoy!
Courtney Merritt, Account Director
Where are you from?
I grew up in Trumbull CT and my family all still lives but I have lived in 7 towns in CT, currently living in Madison.
How did you choose this career path?
My undergrad degree is in Marketing, but I really didn't get exposed to advertising until I was 4 years out of college and worked for a large agency in CT. They did everything from TV, radio, OOH, and interactive. I was lucky enough to be a project manager in their digital department and loved working on all interactive work. When I realized there were agencies that specialized in interactive work I knew I found my calling. Plus the nature of this career allows me to work in the ever-changing digital field with clients across all industries- so there is never a dull moment!
What do you like most about your job?
How everything is always changing. I love to learn and grow and this industry allows me to do that. Just when you think you have something down, the rules are changing again. It keeps me on my toes and I never get bored.
What is your favorite part of being a member of the ZGM team?
The people by far. I love the culture here at ZGM. It fosters collaboration, creativity, and innovation. Beyond all that, ZGM has a very comfortable, family-like environment that is so rare to find.
What is the strangest job you've ever had?
My uncle owns a carnival, so I have carny blood running through my veins. In highschool and college I worked there regularly and even to this day you may still be able to find me spinning a mean cotton candy.
What is your favorite quote?
Thomas Jefferson -"I find that the harder I work, the more luck I seem to have"
Do you have any pets?
I have always grown up with Golden Retrievers. Right now I have two- Rocky and Rhodes. They are furry hot messes that get into everything and drive me absolutely crazy but I cant imagine life without them.
Name one thing on your bucket list.
I would like to run a marathon one day
What would you consider to be your greatest accomplishment?
I recently was a part of a 200 mile relay road race across the state of Pennsylvania. Our team ran for 34 hours straight and lived out of a van for 2 days. It was an amazing experience that forced all of us to dig really deep to get through some of miles. But that cold beer at the end of it was the best beer I have EVER had and I couldn't even tell you want kind it was.
Do you have any hobbies outside of work?
I have a very large family and a close group of friends so I am usually spending time with them. I also pretend to be a runner (don't look at my race times cause they would beg to differ) and I am just starting to get into photography over the last couple years.
What's your favorite food? Least favorite food?
I love seafood- lobsters, scallops, oysters- if it comes out of the ocean I will eat it (that may be an exaggeration, but you get my point). My least favorite is Root Beer, it's a weird thing, I know, but what can I say? If I drink it I immediately want to rub sand paper on my tongue to get the taste off.
Pick three words to describe yourself.
Friendly, passionate, easy going.
Favorite musician?
Billy Joel. All day. Every day.
If you were a Crayola crayon, what color would you be?
Aquamarine – because I love the color blue and anything that has to do with the ocean.
You're about to perform in a karaoke bar. What song do you pick?
Paradise By The Dashboard Light by Meatloaf.
If you could live in a TV show, book, or movie, which one would you pick?
Gilmore Girls. Gotta love Stars Hollow.
If you could hang out with anyone for a day, alive or dead, who would it be and why?
My grandfather. He was such an eccentric man with so many interests and he passed away when I was 17. He was also an advertising executive for the Wall Street Journal so I like to think some of my marketing savviness is genetic and I would have loved to learn more about his NYC advertising life.