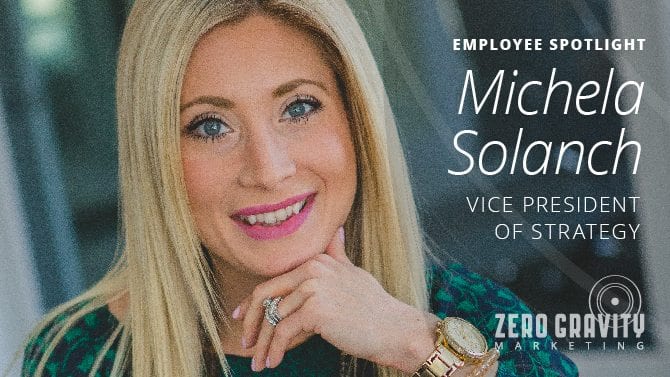 Zero Gravity Marketing has risen above the competition to become a top digital marketing firm in Connecticut, and we credit it to our unique, diverse team. We appreciate every player, and we know that without him or her, we wouldn't be the successful marketing firm we are today.
With this in mind, we have launched an Employee Spotlight initiative. Our hope is that, as you learn more about each of the talented individuals at our marketing firm, you will gain further insight into why we are so great together.
Today, we are thrilled to introduce Michela Solanch, Vice President of Strategy. We have asked her a few questions to provide an insider's look as to what makes Michela tick. Enjoy!
Michela Solanch, Vice President of Strategy
Where are you from?
I grew up in a small town called Woodbury CT. It's the antique capital of the world… but I actually have never been in an antique store in town after living there for 20+ years!
How did you choose this career path?
Became involved with FBLA and DECA in high school and never turned back! Love this field so much. My class mate and I actually won first place in the State DECA conference and we went on the CA to present our business/marketing plan where we placed in the top 10%!!
What do you like most about your job?
The amazing people I work with. I am so honored to work with some pretty smart (and HILARIOUS) people.
What is your favorite part of being a member of the ZGM team?
I never stop learning!
What is your favorite quote?
"It's all about the dash" Although it is a bit morbid, I was at a funeral and the priest's homily was all about the amazing stuff you do in life (or should do) as when you die, you only have the date in which you were born and then the DASH and the date that you passed and it is only up to YOU to make many memories to make for an AMAZING DASH ☺ Oh, that and "happy wife, happy life" hehe.
Do you have any pets?
We have a 6 year old Cavalier King Charles spaniel…a total DIVA DOG.
Name one thing on your bucket list.
To travel more with my husband and son.
What would you consider to be your greatest accomplishment?
Having my son, William Norman.
Do you have any hobbies outside of work?
Chase around my adventurous 3.5 year old tornado of a son. I also play coed volleyball in a league with my husband. It's actually where we met ☺.
What's your favorite food? 
I LOVE nachos.
Pick three words to describe yourself.
Kind, Honest, Dependable.
Favorite musician?
John Legend.
If you were a Crayola crayon, what color would you be?
TOTALLY Cotton Candy Pink.
You're about to perform in a karaoke bar. What song do you pick?
Don't Stop Believin' by Journey.
If you could hang out with anyone for a day, alive or dead, who would it be and why?
My grandparents. I would love just ONE more day with them on this earth!