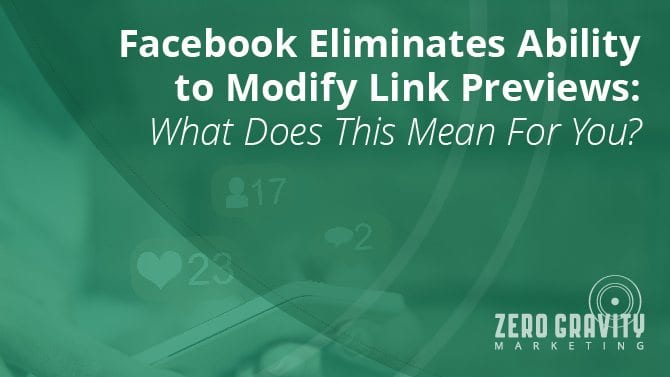 If you run a Page for your business on Facebook, you've probably used the platform to share links with your followers. If so, you've likely noticed that Facebook creates a link preview for any link that you share; this snapshot includes a title, image and description for the link. However, Facebook's automatically-generated link preview often is missing data, pulls a poor picture or is otherwise unappealing, compelling Page editors to edit this link description. Facebook's recent round of updates has removed this ability, catching many Page editors off-guard.
What Facebook Has Changed About Link Previews With This Update
Simply put, Facebook has removed the power to edit link previews. Instead, all link previews will use the information automatically pulled from the link's metadata to populate the preview's headline, image and description. Any attempts to change this information will no longer be recognized by Facebook, and the default link preview will be posted instead. Unfortunately, this means that if the link you're posting to Facebook is missing key metadata, you'll end up with a link preview that has an empty title, image or description–potentially hurting your social media campaign efforts.
Why Facebook Removed the Edit Feature on Link Previews
Facebook's policy change concerning the ability to edit link previews was instituted to combat a growing problem on the platform: the dissemination of fake news and other misinformation. Prior to the change, spammers and other bad actors were able to edit the title, image and description in a Facebook link preview to a degree that the actual meaning of the linked content became completely obscured and misrepresented. Eliminating the ability to edit these fields cuts off a feature that has often been abused–but unfortunately, it also has a big impact on the social networking activities of legitimate Pages.
What Possible Solutions Are Available To You
You do have one solution open to you–if you are a media publisher. Media publishers recognized by Facebook will continue to have the power to edit the previews for links to their own domains. To claim link ownership, simply go to the "Publishing Tools" tab on your Page and complete the "Link Ownership" section.
One important note: you only have until September 12th to claim link ownership before this feature is removed by Facebook. Media publishers who are missing this feature should contact their partner manager immediately.
Need additional guidance to understand your options in the face of this new change at Facebook? The Digital Marketing experts at Zero Gravity Marketing can help. Offering a full suite of digital marketing services, we can help you manage all of your social media marketing. Please contact us today to find out more about our services.