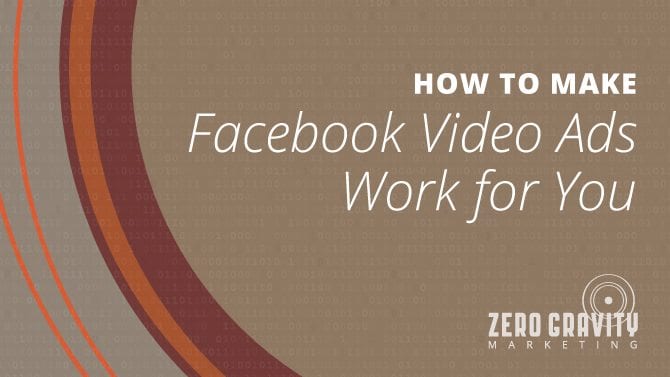 Take advantage of Facebook video ads! Facebook offers some of the most intensive targeting options available in the digital marketing landscape, and users are taking in video at a rapid rate. However, you have to approach the Facebook video ads correctly to reap the most rewards. Here is a look at the best practices for Facebook Video Ads.
Consider Making Videos for Ads
"There are two ways to run a Facebook video ad: you can create an ad and upload the video directly to it, or you can post a video and then boost that post. When you create an ad with the video, you can add a call to action and/or link back to your website. When you upload the video to Facebook, then boost it, you are not able to add a call to action directly to the video. While you are able to add a link to the body of your post – it isn't as effective as a call to action. In other words, boosting is a quick way to target people, but creating an ad is more customizable and effective."  – Amy Chudy, Social Media Strategist
Make the First Few Seconds Count
As you probably noticed, Facebook videos begin playing automatically, so as soon as your ad shows up on the screen, you have about three seconds to draw in that user, or they will keep scrolling. So make that three seconds count. Don't waste precious moments on introductions—get straight into the action.
Connect with the User
People are in love with video because it helps them get to know brands on a personal level. Use your Facebook video ads to show off your personality and engage your viewers. In doing so, you will also build trust with them and they will feel more comfortable doing business with you.
Include Captions
A lot of Facebook users will scroll through their newsfeed when they are not supposed to be making noise, like at work or while waiting for an appointment. For this reason, captions are a must. With captions, they can still absorb the content of your video without getting glares from the people around them.
Incorporate Strong Headlines and Engaging Descriptions
Even though the video itself is the star of the show, the headline and description that accompany it are equally important. Use a headline that teases them just enough to watch your video, while making sure you don't go into click-bait territory. And use the description to give supporting information for the video to help close the deal.
Facebook video ads are an excellent addition to any marketing campaign. When created correctly, they allow you to draw the user in and convert them for a relatively minimal price. To learn more about how to make Facebook video ads work for you, contact our digital marketing firm today. We specialize in creating comprehensive marketing campaigns to engage your users from every angle.