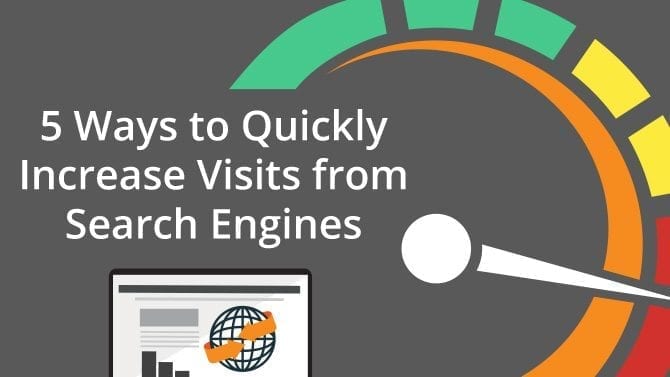 One fact website developers and businesses should keep in mind: SEO is an ongoing project. Search engine optimization and increasing your search rankings is not a goal that you achieve and check off your list. It's a fluid entity, something that you have to be constantly improving in order to maintain an active, vibrant online presence and obtain an engaged, loyal audience. With that in mind, it's important to note that your SEO strategy doesn't have to focus solely on long-term results.
5 Ways to Quickly Increase Visits from Search Engines
Improve User Experience
Google will lower the rankings of low-quality websites, assuming that searchers are looking for more relevant and useful information. If you can prevent users from going back to the search engine results, this means they like what they found, and they do not need to search further. Make changes to the face of website that will improve Click Through Rate. Provide your target audience with accurate, reliable and useful information, and they will be more likely to stay on your site.
Post Video
High-quality, useful videos are valuable rich snippets that, with schema markup, can appear on the search results page. Videos have been proven time and time again to interest and engage users, and they can help you quickly grab extra visitors for your site.
Faster Loading Website
Focus on making your site speed faster. Google confirmed that speed plays a significant factor in a site's ultimate ranking in the search results, and it's even more important to have a fast, efficient mobile site than a desktop site. Increasing your site speeds not only helps you get more unique visitors, but it also helps improve overall user satisfaction.
Mobile-Friendliness is Not Optional
Developing a mobile-friendly website is not necessarily 'quick' but is so essential to search results that we couldn't exclude it. Mobile-friendly requires you to go beyond building a site simple looks good on a tablet or smartphone. You want to avoid any smartphone errors on your site, because this could decrease your rankings. An error might include a video that won't play on a particular phone, or a pop-up advertisement that distracts and frustrates the mobile user. You want to give your target audience a positive experience, whether they are visiting your site on their desktop computer or on their mobile device. More people than ever before are using their smartphones and tablets as primary pieces of technology, so mobile-friendly websites are a necessity.
Keep Information Fresh
Update your site frequently with fresh, original content. If you let your site go stagnant, you will stop getting links and you will start to lose traction in your search results. Creating new content that is valuable and informative is always worthwhile, but don't forget to refresh your old content. Adding new information to your home page also can help your rankings and allow you to generate new visitors.
It's also important to stay abreast of the latest information regarding SEO strategies. Google is constantly evolving to provide users with a better search experience, which means SEO experts and web developers are always on their toes to stay ahead of changes. Working with an experienced, professional digital marketing agency like Zero Gravity Marketing can help you maximize your investment in SEO and allow you to earn the highest rankings on the search results page.