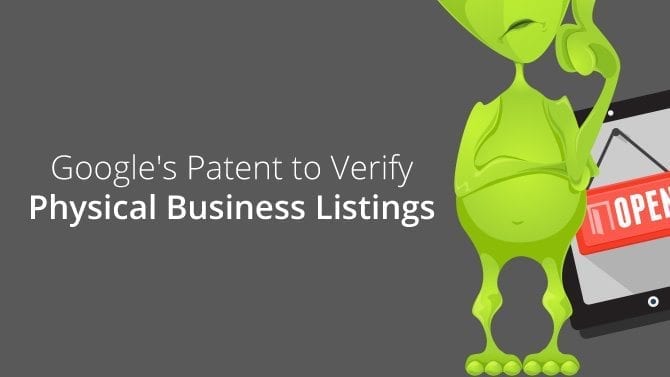 Google's Patent to Verify Physical Business Listings
If a business doesn't keep its offline details up to date online (such as business hours, address, and even helpful parking info, etc.) it hurts their local search marketing–but it also hurts Google. Keeping business search listings current is important for the search engine, since serving up outdated information is a real inconvenience for users–as we've all experienced from time to time. Inaccurate information returned in local search results lessens public trust in Google overall and may even make the ad space on results pages just a little less valuable. So Google is investing in accuracy with a new patent.
Street View Cars Used like Search Spiders
When brick-and-mortar businesses go out of business, move, change hours or phone numbers without updating their online presence, what can Google do about it? What about fake businesses set up just to dupe online customers into a fraudulent purchase? Can Google help combat them? Well, it seems a newly filed patent could lead to more accurate and more detailed online business listings for all. The patent describes potential uses for the street view pictures taken by Google's street view cars. These local business images could help confirm business addresses and compare listing info with reality, including updating "out of business" locations (and deleting scam businesses), adding new locations "automatically" and verifying open/closed hours. Theoretically, they could even check "years in business" statements for accuracy this way. This verification could be helpful to your mobile and local business marketing.
Automatic Business Listings?
If you're a business owner, especially with multiple locations, a real-world mapping and listing process could save you time. Similar to the way Google crawls a new website, literally bringing it into existence online, the Google camera car could potentially map your business into existence, leaving one less duty for you! We would never suggest giving up control for convenience even in cases where that is possible. There are great advantages to DIY business listing—such as the ability to include select details that you want to prioritize about your business. The customer base of every business is becoming more mobile daily, so your spot on the map will become ever more important and useful in marketing your business online. Now would be a good time to check to see that your NAP (name/address/phone) data matches on all your online listings, your company website, social media, etc.
Google's Map Rank and the New Patent
This specific Google patent also discusses using the data from street views to "rank business listings relative to one another and to decide which businesses to…prominent[ly] display on a map." (The patent also speaks of higher search engine ranking for businesses where address/signage is recognizable in the street photo.) What this will actually mean in practice about your business ranking and your Google Map visibility is hard to predict in detail – but spiffing up your location and signage (obvious business ranking signals) might be in order.
One thing is for certain, an evolution of map rank is on the horizon, along with (and in combination with) Web-based traffic and page rank scores. As the patent evolves into actual practice, your business strategy will become clearer as well. Here's how Google decides what to show on a map currently (at different zoom settings). This is a "natural" ranking at present (determined by a Google algorithm), with no pay-for-position available. The map ranking parameters, including business prominence, will likely be heavily affected by this patent over time. Stay tuned.
For expert SEO advice that is always up-to date, bookmark our blog. Learn more about Zero Gravity Marketing services for your business today.