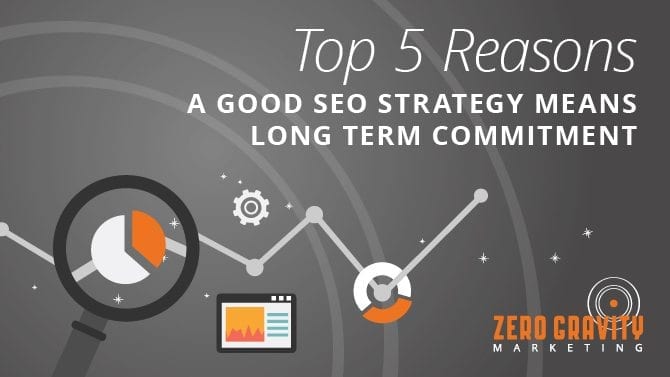 Great SEO Agencies will tell you that successful digital marketing strategies need a long term commitment. You can't just hire someone to slap together the right key phrases and increase your ranking overnight. Even with increased ranking, your real goal isn't necessarily increased traffic unless it's the right traffic. You want to increase conversion rates and add revenue. While that most often increases with page ranking and traffic, you're not trying to catch every web user, just the ones in your target audience.
Your digital marketing strategy should be fluid enough to change with your needs, but there always needs to be the underlying dependability of a name and brand you can trust. You can't build a great brand or site overnight, so your strategy should include the time it takes to build up and sustain.
5 Reasons Your SEO Strategy Is a Long Term Commitment
It Takes Time to Build Trust. As stated, Google's algorithms work on trust. If your site does all the other things that it needs to do – uses the right keywords effectively, is optimized for mobile, pays attention to the latest updates, etc. – it's still going to fall short without the time it takes to build that trust. Your ranking will be impacted by the consistent effort and amount of time.
High Quality Takes Concerted Effort. You'll hear a lot about quality over quantity in digital marketing and the algorithms will continually crack down on content that's geared to trick people into visiting rather than offering value. It's also much easier to crank out garbage copy aka "fluff", with keywords than it is to create valuable content.
Authority Links. Inbound links are still important in your SEO strategy. But having links all across the internet won't help if they don't come from well respected sites. Garnering links from well respected, high ranking authorities online works the same way building credentials offline would. It takes time for these venues to find and see your online worth in order to give you the much sought after recommendation.
Reader Trust. Gaining reader trust doesn't happen overnight. If you consistently put out good content that meets your audience's needs and offers value, reader trust will follow. But this takes a longer commitment than one campaign or a few days. There may be big booms of traffic through luck or great strategy, but those won't last unless the building blocks of good content and regular engagement are already in place.
Shareable Content. Every great content marketing push includes shareable content. You're looking for content that people will want to post to their social media networks and recommend to their friends. This is actually the end game – once you've built credibility, you're far more likely to hit gold with shareable content.
Digital Marketing Agency for Long Term Goals
If you're interested in the long term success of your digital marketing strategy, contact Zero Gravity Marketing today. Our expert staff can help you build the perfect long term strategy to fit your digital marketing needs.