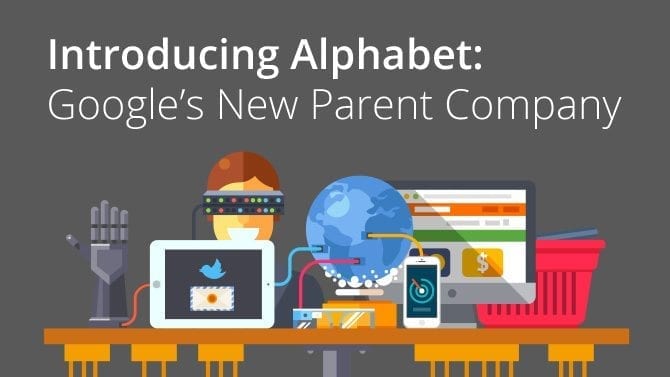 Introducing Alphabet: Google's New Parent Company
Sergey Brin and Larry Page created Google in 1998, and they have taken it places that they never could have dreamed of when designing the search engine in a Stanford University classroom. They did it by taking risks, never settling for the status quo, and always thinking outside the box. And they have done it again.
On Monday (August 10), Larry Page, Google's CEO, announced that Google was restructuring and would now be a subsection of the parent company they named Alphabet, with the URL www.abc.xyz (you gotta love their creative use of the new domain extensions).
The Restructuring of Google Explained
If you haven't noticed, Google is in a lot more sectors of the business world than just search, and they figured it's about time to provide a clear separation of each entity. Larry Page will now be the CEO of Alphabet, with Sergey serving as President. Google will still be all about search, but the company now referred to as Google will only focus on the roots of the brand and the internet products connected to it, like Google Maps, YouTube, Chrome, etc. The other areas Google is a part of will break off and become their own companies, each with their own CEO, but all under the parent company Alphabet. Some of these include:
Life Sciences – Formerly a part of Google-X, this company studies and develops glucose-sensing contact lenses along with other medical technology breakthroughs.
Calico – Another healthcare company focused on improving the average life span of humans and slowing the effects of aging.
The X Lab – The lab that works on super secret, highly technological advances to improve everyday life, such as the self-driving car and drone delivery service.
So basically, the purpose of Alphabet is to let each sector of Google's massive empire operate on its own, with strong leaders who have a firm grasp of the tasks at hand. Larry and Sergey will still oversee it all, but this allows separate CEOs to take the reigns and hone in on the brand segment they excel in.
A Few Key Points
The announcement of Alphabet is a big deal, and there are a few key facts you should to be aware of:
Sundar Pichai will now be the CEO of Google. Sergey and Larry feel that he shares their vision for the future and will continue Google's amazing trajectory into the future.
All Google Inc. stock-market shares will automatically switch over to the same number of shares for Alphabet, Inc. and owners will maintain all of the same rights; however, the shares will still trade on NASDAQ as GOOGL and GOOG.
For Q4 reporting, the financials of Google will be shown as its own entity instead of the entire Alphabet umbrella.
There will be no specific Alphabet products—the whole point is for each company to have its own brand identity.
The Reasons Behind the Google Shakeup
In summary, Larry and Sergey are really excited about their Alphabet announcement because it means more things will get done, more entrepreneurs will be developed, and there will be a clear distinction between all of Google's projects. They believe that the enhanced focus will allow each entity to grow its wings and soar, and we can't wait to see what comes of this metamorphosis.