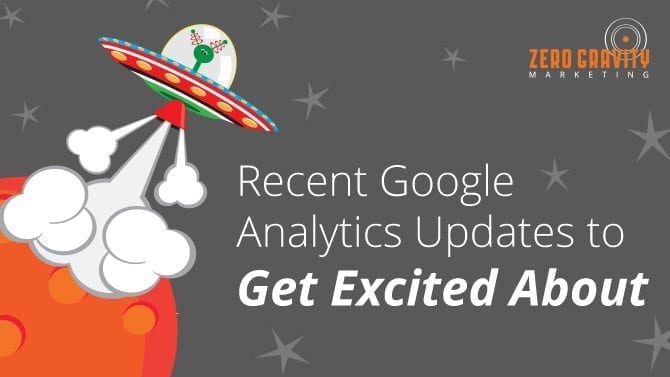 Recent Google Analytics Updates to Get Excited About
Google Analytics is constantly updating to meet the ever-changing demands of webmasters and digital marketers. There are two recent Google Analytics updates that we are especially excited about:
Increased Security
For years, Google Analytics has been allowing the user to determine if their communication with google-analytics.com was secure or not. Usually, security was dependent on the SSL status of the website, with non-secure sites sending non-encrypted information to the site. However, as of April 11, 2016, all interaction with Google Analytics is transmitted via SSL. With the mounting concerns for security online, they feel like this will further protect their clients, the end users, and the Internet as a whole. We agree.
Integrated More Fully with Search Console
Search Console is now integrated with Google Analytics. While they have had the ability to be linked for a while, you could never view all of the metrics on one page. To see impressions, click-through rates, and ranking, we would have to look at the Search Console. However, if we wanted to know how our visitors found our site and what they did once they got to it, we would have to look at Google Analytics.
Yes, the information was all still available, but now, you can see all of the data you need on one report for easier dissecting. View acquisition stats, behavior data, and conversion metrics, all on one page. See how impressions or average ranking position has a direct impact on bounce rates or pages per session. Here are just a couple of opportunities we see with this new-and-improved layout:
Discover landing pages with high click-through rates and impressions but low engagement. This is indicative of a weak landing page, and it's time to make improvements.
On the contrary, you can identify landing pages with incredible engagement stats but a bad showing on the SERPs. In this instance, you will want to dedicate time to refining your title tags and meta descriptions.
Digital Marketing is constantly changing, and it's a digital marketer's job to adapt and evolve with these changes to capitalize on the new tools and technology that are released every day. The process is constant, and it is best handled by a large agency like ours. We have experts with many different skill sets that collaborate with each other to significantly improve our clients' online presence. To discover how powerful an experienced SEO agency can be to your brand, contact Zero Gravity Marketing now.