There is no shortage of options when it comes to booking a flight; travel agents, airlines and metasearch engines (like Google Flights, Skyscanner, and Kayak) are eager to help. Metasearch engines have become go-to booking agent for travelers because they combine results from multiple sources quickly and proficiently.
Google Flights has been working its way up the ranks since 2011. In 2014, Google Flights outperformed Skyscanner in number of searches, but was falling short of the travel site Kayak. But this year, Google Flights is searched nearly three times as much as Kayak. They are clearly doing something right.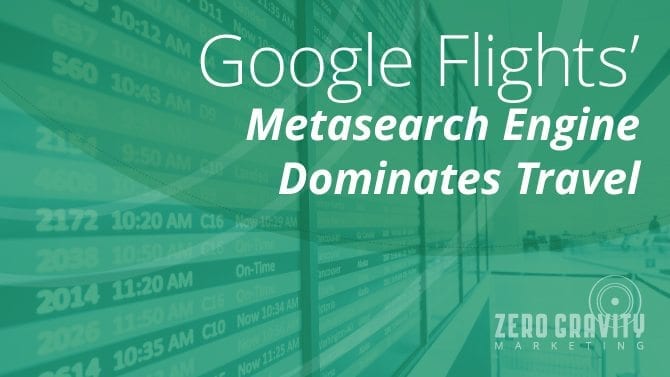 With its vast empire behind it, Google is making headway in the travel industry. They take the mission of consumer satisfaction to a new level by implementing creative search options and combining them with strategic ad placement. It's safe to say that Google Flights has only just begun their domination of the travel industry.
Optimized User Experience
Every metasearch engine in the travel world allows you to enter your destination and dates, but few offer more than that. When it comes to Google Flights, those options are just the beginning. It has several unique features that make it a very popular choice among travelers:
Instead of selecting a destination, you can let Google suggest where you should go. You tell the search engine when you are available to travel and your budget, and it will suggest an itinerary based on past search history and what is trending. Once you see the recommended destination, you can also see a bar graph indicating the least expensive dates to visit.
If you are dead set on your destination, but are flexible with the dates, Google Flights can show you the price to fly every single day for the next year. It can then display these prices on a graph so you easily see the least expensive dates.
Once you have an ideal timeframe and destination in mind, you can save it to your Google Flights account. As a result, you can be notified when prices are about to change on the flight you have saved.
Strategic AdWords Strategy
Obviously, being part of the most popular search engine has its perks. Over the last several years, Google Flights has been running PPC campaigns targeting any and all queries that use the words flight, route, cheap, cities, etc. To be fair, it always shows its ad under any other paid search results. But now, Google Flights is stepping up its AdWords game by also targeting the names of airlines. From British Airways to Emirates to easyJet, whenever the name of an airline carrier is searched, a Google Flights ad can be seen.
Commitment to Artificial Intelligence
As of right now, Google has not integrated their metasearch platform with any of their other assets, such as Google Maps, but that is about to change. With the help of artificial intelligence—which has already been implemented into their search engine itself—Google Flights can make traveling a lot easier. For example:
If you have a planned itinerary in Google Maps to drive from Boston to New York, but Maps detects an insane traffic jam that could hold you back several hours, then Google Flights can jump in, showing you last minute flights to New York that would get you there faster.
If you enter a three-day business meeting in St. Louis into your Google calendar, Google Flights can display flights that fit around your meeting times the best, minimizing your wait time both before and after the event.
If you start searching for something to do in London, Google Flights may assume you want to travel there, and can offer the ideal flights from your location to London.
With the huge amount of traffic that Google receives every day, combined with their incredible AI technologies and consumer-focused approach, it's safe to say that the flight metasearch industry will never be the same. Google Flights is clearly raising the bar to a whole new level. The only question is, will the competition step up to the plate, or will they soon be obsolete?
If you are in the travel industry, step up your SEO game by contacting Zero Gravity Marketing today.