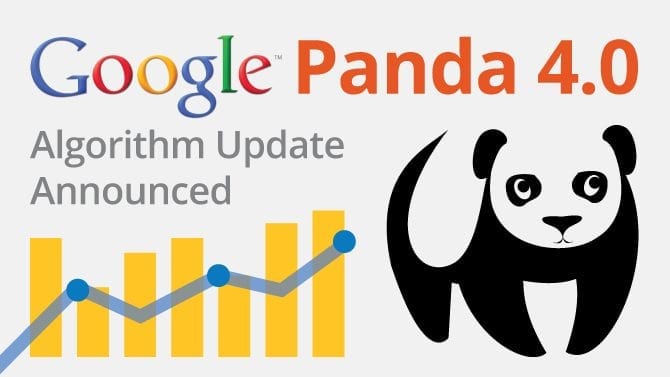 May 20, 2014. Google's Matt Cutts announced on Twitter that the Google Panda Algorithm has undergone some major changes. In a matter of seconds, frenzy ensued, as webmasters everywhere began panicking about where they would stand in the rankings. So what is the Google Panda 4.0 algorithm update all about? Who is going to be affected? What needs to be changed going forward? And is it really that big of deal?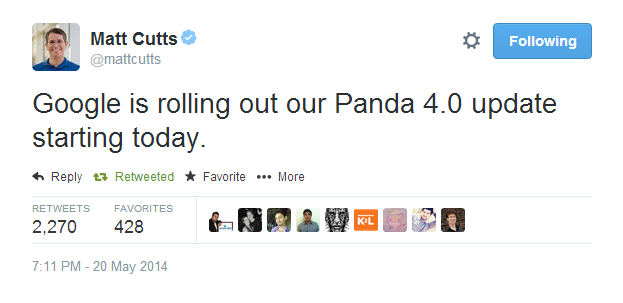 Is Google Panda 4.0 Algorithm Update really worth the attention?
The easy answer is yes. The fact that this announcement was even made means that is a huge deal. Why? Because Google vowed to stop the constant notifications on minor algorithm updates since they were happening so frequently. So if this change to the algorithm warranted a formal statement (okay, Twitter isn't exactly formal, but still), it should definitely not be ignored.
What is the purpose of Panda?
Considering the tweet said that Panda 4.0 has just begun rolling out, a lot of its impact is still yet to be seen. But we do know this: In March of this year, at the Search Marketing Expo, Cutts did allude to the fact that his team was working on an innovative, softer Panda update that would directly impact small businesses.
The goal of Panda has always been to provide the user with the most accurate information; so filtering out the content farms is always a goal. Word on the street is that this new update is even smarter than its predecessor (isn't that always the goal?), and the companies using black-hat techniques should now stand an even smaller chance of beating the system. Which is great news for those of us doing things the right way (i.e. relevant, high-quality content and legitimate linking).
Who will be affected by Panda 4.0?
Of course, any algorithm change impacts everyone to some degree. However, we do know that different languages will be impacted differently, with small businesses likely noticing the biggest change (for the good!). Apparently, about 7.5% of English search queries will be affected by Panda 4.0. But whose keywords are included in that 7.5%? Only time will tell.
That being said, some companies are already noticing an increase in their rankings, without even making any changes. Some experts are even speculating that this is Google's way of self-correcting themselves, finally putting an end to all of the shady SEO techniques. But even the sites noticing an immediate jump in rankings shouldn't get too excited: kinks are still getting worked out, and SEO is a job that is never done.
What needs to be changed?
Considering every Google search analyzes over 200 different factors, it's probably too soon to really know what we can do to boost rankings. However, Panda 4.0 is not entirely unpredictable, as the common goal still remains: provide searchers with only top-notch content. Period. So we think these are always good rules to follow:
Make sure all of your content is original and well written.
Build websites with the user in mind, making them easy to use.
No keyword stuffing, please.
Ensure metadata is relevant and unique to the page it is on.
Consistently post attention-grabbing content.
Don't make the site all about ads (remember, it's about the user's experience).
Do not, under any circumstances, use black-hat techniques (more important now than ever before).
Is Panda 4.0 Going to Help You or Hurt You?
In summary, Google's Panda 4.0 algorithm update should be a welcome and exciting change for most websites. It means that those who are doing the hard work will be able to reap the rewards, while those trying to cheat the system will be penalized.