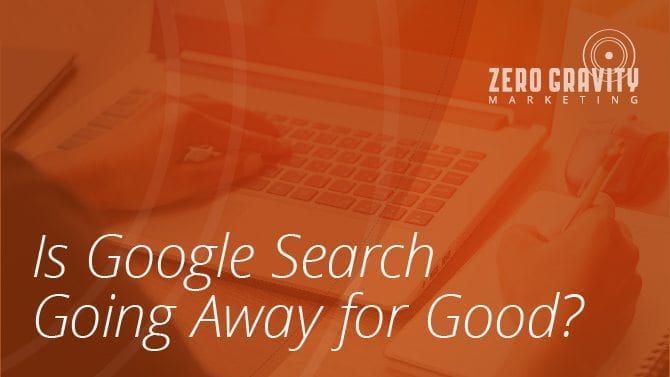 In July, Google launched a personalized news feed on its app. Instead of sticking to its trademark lone search bar, the app now gathers information about you throughout all of Google's properties and puts together recommended stories or tasks based on what it thinks you will want. For example, if you have watched a lot of Bon Jovi YouTube videos, the news feed might show you their upcoming concert dates. If you have a flight to New York in your Google calendar, the news feed might show you restaurant recommendations as the trip draws near.
When Google Search rolled out the news feed—which is currently only live in the app, but will be rolling out to the desktop and mobile site soon—the Digital Marketing industry was quick to discuss what this means for Google, if the end of search as we know it is in sight, and if artificial intelligence is going to revolutionize our work. Here is a look at the facts, as well as our personal opinions on the matter.
Why the News Feed Is a Big Deal
For one, Google hasn't changed the look of Search since 1996. If you ask us, its simple, straightforward search bar is part of the draw. It also means Google Search is stepping up its artificial intelligence game to compete with other online conglomerates, such as Facebook and Amazon. Both sites currently customize their homepage based on what it thinks you want to see—no searching needed.
Because of this, many SEO experts, including Mashable, came out to say that this could be the beginning of the end for Google Search. As they point out, Search is still the vast majority of Google's business, and if people no longer need to input anything into a search bar to find the information they are looking for, then advertisers no longer need to pay to show up on the results that won't seen.
What Does It Mean?
The key takeaway from this announcement is simply that Google is trying to keep up with changing technologies and their competition. They know that artificial intelligence is being integrated into most digital services, and they don't want to get left in the dust. Because the truth is if Search did go away, Google would be hurting.
Back in 2015, Google became Alphabet so that they could track the sources of their revenue more clearly. In the first part of the year, 99.9% of their revenue was from Search, the Display Network, and their video advertising. They clearly can't afford to lose Search, and by introducing the news feed, they are trying to stay in the game.
The Future of Google
Is artificial intelligence a big part of Google's future? Yes. Is Google Search going to be going away? We don't think so. In fact, we see the addition of the news feed as a little insight into where Google is heading and what we need to be focusing on with our clients' digital marketing strategies. Here are the lessons our SEO team wants to focus on after the addition of the news feed to Google Search:
Lesson 1: Search Isn't Going Away
Chris Uzzo, our Founder and CEO, gets straight to the point when he says, "I don't agree that search will die. That is overstated." Ricky Weiss adds that Search will still exist; it will just be in a different form. Even if Google is using artificial intelligence to add information to the homepage, it still has to choose that information somehow. Brands must still compete to show up the news feed, so optimization will always be needed.
Additionally, as Justin Klanica states, humans are constantly changing and discovering new things. Our never-ending curiosity means that we will always have new things to search for—things that can only be predictable in our own minds. And when we want that information, we are going to want it quickly: That will never change and that is something artificial intelligence simply cannot compete with.
Not to mention, there is something beautifully intriguing about being able to go to Google Search and look up anything we can thing of. The power of the manual search will never dissipate.
Lesson 2: The News Feed Means More Advertising Opportunities
When looking at the news feed with a digital marketer's eye, it's simple to see how this new change to Google Search equates to unprecedented advertising opportunities. Now, instead of a query having to be performed, content will be shown to users as soon as they go to the homepage. Talk about an incredible opportunity for our clients. Not only that, but we can only imagine how AdWords will evolve to include the news feed, and frankly, we get a little excited thinking about it.
Lesson 3: Long Tail Is the Name of the Game
With Google Search as it is right now, there is a lot to be desired in long tail keywords—especially considering more and more searches are being spoken. There are many instances where Google Home will reply to a detailed question with, "I don't know the answer to that yet." As Uday Rajaram points out, there are still a lot of long-tail keywords that paid advertisers cannot target. If Google wants to keep its users happy, it is going to have to open up the doors for those long tail phrases.
Lesson 4: Personalization Is Even More Relevant
The bottom line is that the move to the news feed is all about Google showing its users that it cares about their experience on the site. It wants to offer them personalized content so that they continue to head to Google for all of their internet needs. After all, with Google's immersion into our personal lives via Mail, Maps, YouTube, and Search, they pretty much know everything about us anyway.
Justin Healy believes that "what people follow in their feed will allow businesses to create a more personalized experience with their ads, and content will be more important than ever as businesses fight to position themselves next to current trends and topics."
Now that you have heard the facts about Google's change, and our opinions on the matter, it's time for you to develop your own opinion. Do you think Google Search will ever go away completely? Or do you agree with us that there are too many variables in the human mind to go 100% to artificial intelligence? Let us know! And if you want to make sure your company stays on top of whatever changes come into the digital marketing landscape, contact us now.