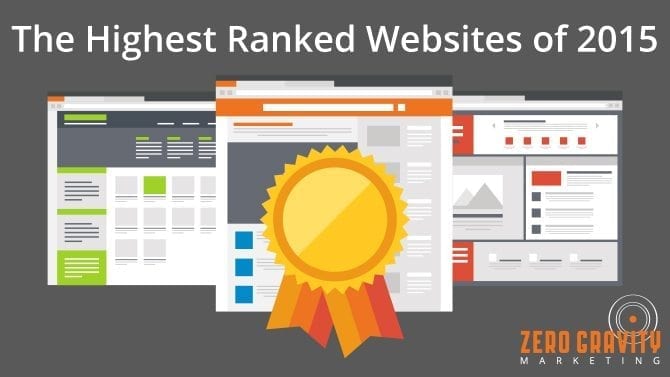 Every day, Moz tracks over 10,000 keywords and tallies up who holds the top spots on Google. Here is a brief look at the data they compiled for 2015, and what it means for you.
Who Occupied the Most Google Real Estate?
First, let's just talk about the ten domains who earned the most page-one spots on Google's search rankings. Here are the winners, along with what percentage of coveted Google real estate they occupied:
Wikipedia – 5.12%
Amazon – 2.5%
Facebook – 2.21%
YouTube – 1.61%
Yelp – 1.38%
WebMD – 0.72%
Walmart – 0.68%
TripAdvisor – 0.64%
Food Network – 0.56%
All Recipes – 0.55%
Who Had the Biggest Changes in 2015?
Chances are you have visited most, if not all, of the above websites, so it's no surprise that they hold these top rankings. However, another way to look at the highest ranked websites is to consider how much each domain moved up or down since last year. When this data is evaluated, there are some interesting things to note:
The go-to website for handmade items, etsy.com, surprisingly showed the most improvement for the year. They went from #81 to #31 throughout the course of the year, giving them a gain of 156%.
Instagram earned the second most improved ranking with a gain of 123% (they are now #57).
Twitter took the biggest loss in page-one real estate for the year, but that figure may be deceiving. They were ranked #6 in 2014, and fell to #15 in 2015 (which is still a very admirable finish), but Twitter also made a deal with Google last year to show up directly in search results—and these tweets are not ranked as coming from the actual Twitter.com.
YouTube had an admirable year as well, finishing at #4 in the highest ranked websites, but they are probably showing up in even more searches than they are getting credit for because the YouTube Video Cards are displayed often in Google searches.
How to Use the Highest Ranked Websites to Your Advantage
So why does this all matter? Well, if you know who is getting the most visibility on Google, you can alter your Digital Marketing strategy accordingly to ensure you are getting some of those rankings. For example:
If you create a product as part of your business, try selling on Etsy as well as through your website. They have categories including everything from artwork and clothing to jewelry and toys.
With youtube, Facebook, Twitter, and Instagram all considered some of the highest ranked websites on Google, it's clear that having an active social media presence is critical.
To spruce up your digital marketing strategy and incorporate the moguls of the Google real estate world, contact Zero Gravity Marketing today.