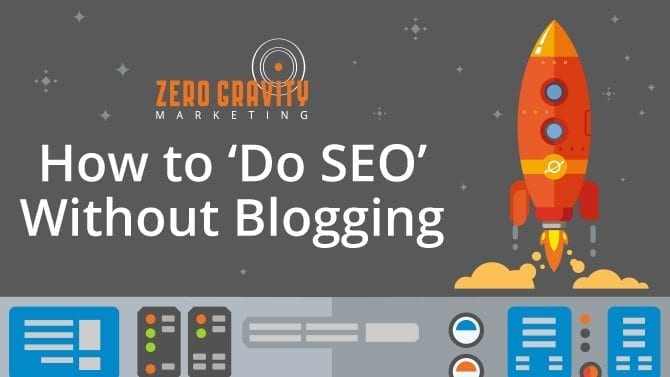 You can "do SEO" without a blog. Here are some essential tips to improve your position in search engine results without ever posting an article or blogging:
Optimize All Pages on Site
Meta tags, keywords and overall website structure should be optimized by a professional and made attractive to search engines. You should periodically adjusting these SEO tags, and it is essential that your website is mobile friendly.
Increase Social Shares
To ensure you are getting enough shares on these venues, build solid pages for your business on the various social media sites, then post links to important pages on your website that provide helpful information for your readers. Add sharing buttons on your web pages to the various social media sites to make it easy for people to share. Use social media to build relationships with your customers.
Link Building
Solid link building strategies are an effective SEO tool. The more high-quality links you have pointing back to your site, the more popular your site appears to Google, and the higher it can rank.
Optimized Articles for SEO
These steps can help you improve your search engine page rank without blogging, but why are you against blogging? Maybe you should stop thinking about the blog posts as "blogs" and start thinking of them as "articles." Don't let a fear of blogging keep you from making your business as effective as possible.
For Zero Gravity, as well as many of our clients, the blog is the one place outside the home page where the majority of organic search traffic lands.
Don't be afraid of blogging. It's not as hard as you think, and when articles are optimized for SEO they and can be highly effective. If you need help to get started, contact Zero Gravity Marketing today.