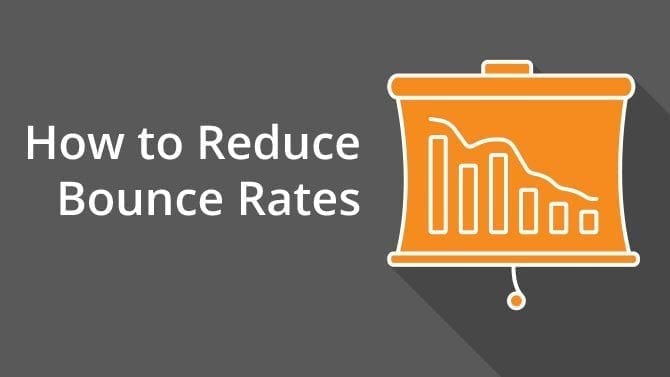 5 Tips to Reduce Bounce Rates
Just as the name implies, your bounce rate tells you how many people are leaving your site after just viewing one page. They can bounce by closing the tab or window, hitting the back button, entering a new URL, or letting the page timeout. While the definition of a bounce rate is easy enough, understanding what a good bounce rate is can be complicated (learn more about it here). That's because it varies greatly between industries and by page types.
But no matter who you are, you want to know how to lower bounce rates, because that means more people are staying on your website longer, and hopefully converting into customers. Here are our insider tips on how to reduce bounce rates:
Check Technicalities
Technical difficulties are a huge contributor to high bounce rates. If people get frustrated from the formatting or the loading speed, they leave. Period. This is especially relevant when considering your mobile users. To reduce your bounce rate, make sure your website operates smoothly both on desktop and on all mobile devices, and ensure that any link a person might want to click is simple to find.
Hone in on Your Audience
A lot of bounce rates are so high because the website doesn't live up to its promise. They click on a PPC ad in hopes of one thing, only to discover another. Not only do you not want these people on your site because of a high bounce rate, you also don't want to waste funds on your PPC campaign. That's why honing in on your target market and wording your ads in a way that attracts them is vital.
Change Appearances
Our third tip on how to lower bounce rates is to experiment with the look of your landing pages. Sometimes, something as simple as a different color scheme or graphic can encourage people to stick around a little longer. To really understand how to reduce bounce rates, we recommend doing A/B testing with Optimizely. Try fresh content, upgraded images, and alternate layouts to see which ones get the lowest bounce rate. You can also take a look at your top competitors to see what works for them, and then make it your own.
Incorporate Inbound Links
You may know your website inside and out, but that doesn't mean every visitor will. Be their tour guide with friendly suggestions that include inbound links to other pages on your website. For example, you could say, "To learn more, check out our services page." or "If you thought this blog was amazing, you will definitely want to read this too."
Ask for What You Want
Lastly, learning how to reduce bounce rates may be as straightforward as asking for what you want. The average web browser needs a little nudge in the right direction, and it's your job to give it to them. Make your conversion points (add to cart, sign up now, etc.) larger and don't be afraid of a strong call to action. Additionally, there have been many studies that show something as easy as changing the conversion button from black to red can make a difference in your bounce rate.
The bounce rate is a complex thing, but luckily we know how to lower bounce rates like the back of our hands. If you want to learn more about what your bounce rate means and how to improve yours, contact Zero Gravity Marketing now.