Title tags are about so much more than keywords and search engine optimization (SEO). They're the first thing your readers see. If you have a catchy title, people will be intrigued and likelier to click through to read on. A reader won't keep scrolling through the search results if your titles are boring or lifeless.
Writing catchy titles boosts your click-through rate (CTR), bringing your brand more leads and customers. How do you write a title that grabs attention and compels people to click through? It might seem easier said than done, but you can create titles that demand attention with a few tips and tricks.
How to Write Catchy Titles
What makes you want to read an article? You have an emotional response or a desire to learn more about a topic. The title of a blog post or article should tug at your emotions or make you want to know more. It should also make a promise to the reader.
What sort of promise should the title make? It can tell them they'll learn tips and strategies. It should also convince them that "they'll never believe" something.
A catchy title also needs to be unique. People are going to scroll by the same-old, same-old. If your titles are the same as every other blog, what's the point in clicking to read more?
Finally, when writing your titles, be sure you know your audience. You want to shock and awe, but not offend or confuse.
Best Practices for Catchy Titles
With all that in mind, the following best practices will help you generate attention-grabbing, must-click titles.
KISS (Keep it Short and Simple)
Online readers don't have all day. And you don't have that much space for your title tag. You want a title that's short and to the point, so a reader knows what they're getting right away and so the title itself doesn't get cut off by the search engine.
When writing your title, consider and include the most essential information. If you're publishing a list, make it clear. If you've written a tutorial or explainer, be sure that's visible from the title alone.
And keep everything to less than 60 characters.
Push the Benefits
Give readers the why. Let them know exactly how they'll benefit from reading your content by the title alone. You can be grand here and use a title like "These 5 Cleaning Tips Will Change Your Life" or more subdued, as in "5 Tips for a Cleaner Home."
Use an H1
Ensure your content's title is an H1 or the main heading. Admittedly, readers don't particularly care whether you use an H1 or H2 or just bold the title, but Google does. When you use an H1, it tells Google that the keyword contained in the title is the keyword, the most important one of the content.
Also, only use one H1 in your content. If you have multiple, Google will get confused and won't know which keyword is the most important. Your content will end up competing against itself, which is not ideal, and may not rank as well, meaning fewer clicks.
If you've got other keywords to use, scatter them throughout the content as H2s or H3s.
Don't Neglect SEO
So far, we've talked about appealing to your human readers with your titles. But don't forget about SEO, which plays a significant role in ensuring your posts rank and get the search traffic they deserve. When writing your titles, get that main keyword in there, ideally as close to the start of the title as possible.
Catchy Title Examples
Catchy titles come in various shapes and sizes. Here are a few examples to inspire you.
1. Questions
People searching for info usually ask things like, "What's the best way to unclog a sink?" or "How often should I take my cat to the vet?" Show your readers you're on the same page as them and have an answer by using the very questions they're asking in your titles.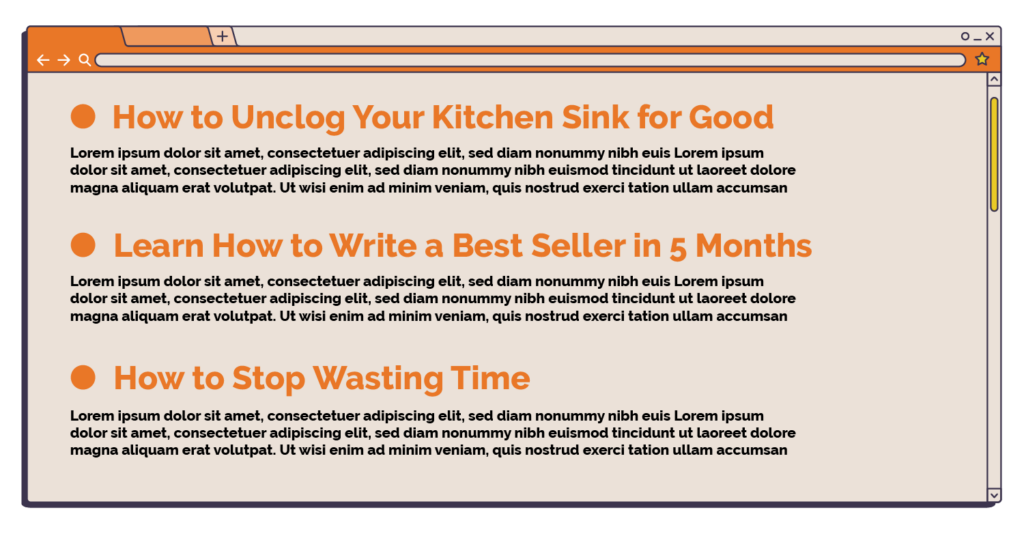 2. How To
Similarly, people want to learn something when they're deep in a Google search. They may need to know how to clean their oven, replace a tire, or write a best-selling novel. If your content teaches people a skill, clarify that in the title. Examples include:
How to Unclog Your Kitchen Sink for Good
Learn How to Write a Bestseller in 5 Months
How to Stop Wasting Time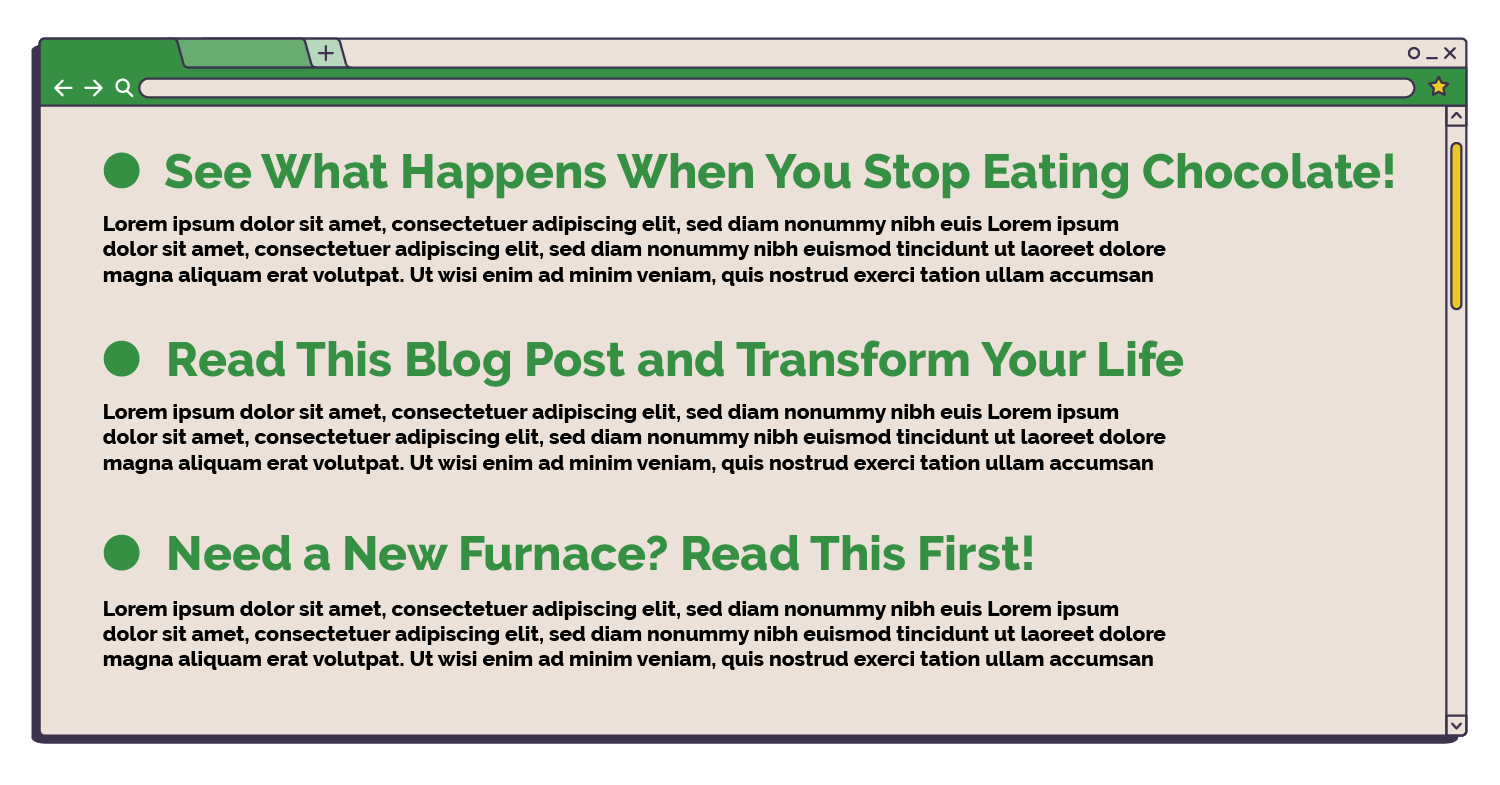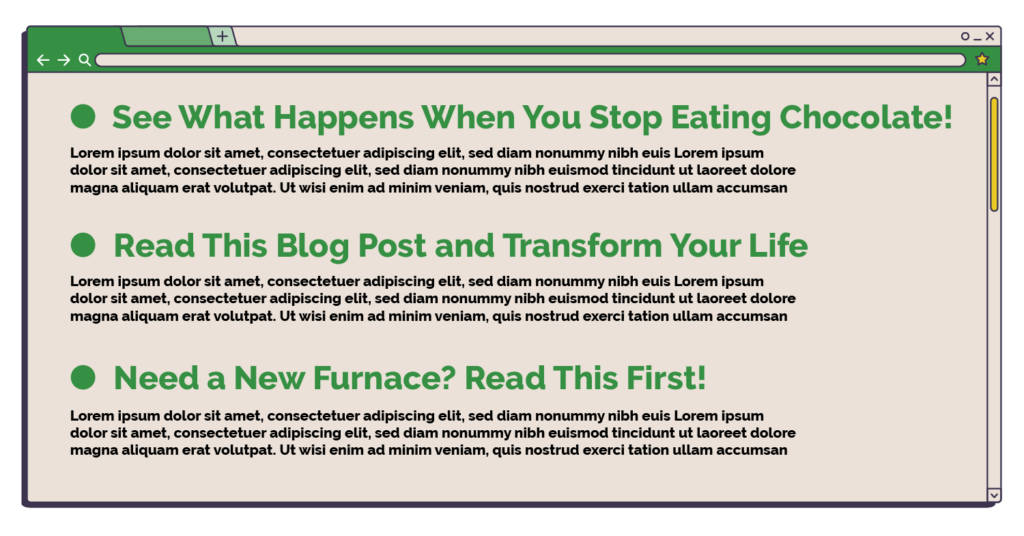 3. Calls to Action
Sometimes, you have to compel people to click on your posts. Including a call to action (CTA) in your title is one way to do that. Make the title juicy and appealing so people just have to click. Some examples are:
See What Happens When You Stop Eating Chocolate!
Read This Blog Post and Transform Your Life
Need a New Furnace? Read This First!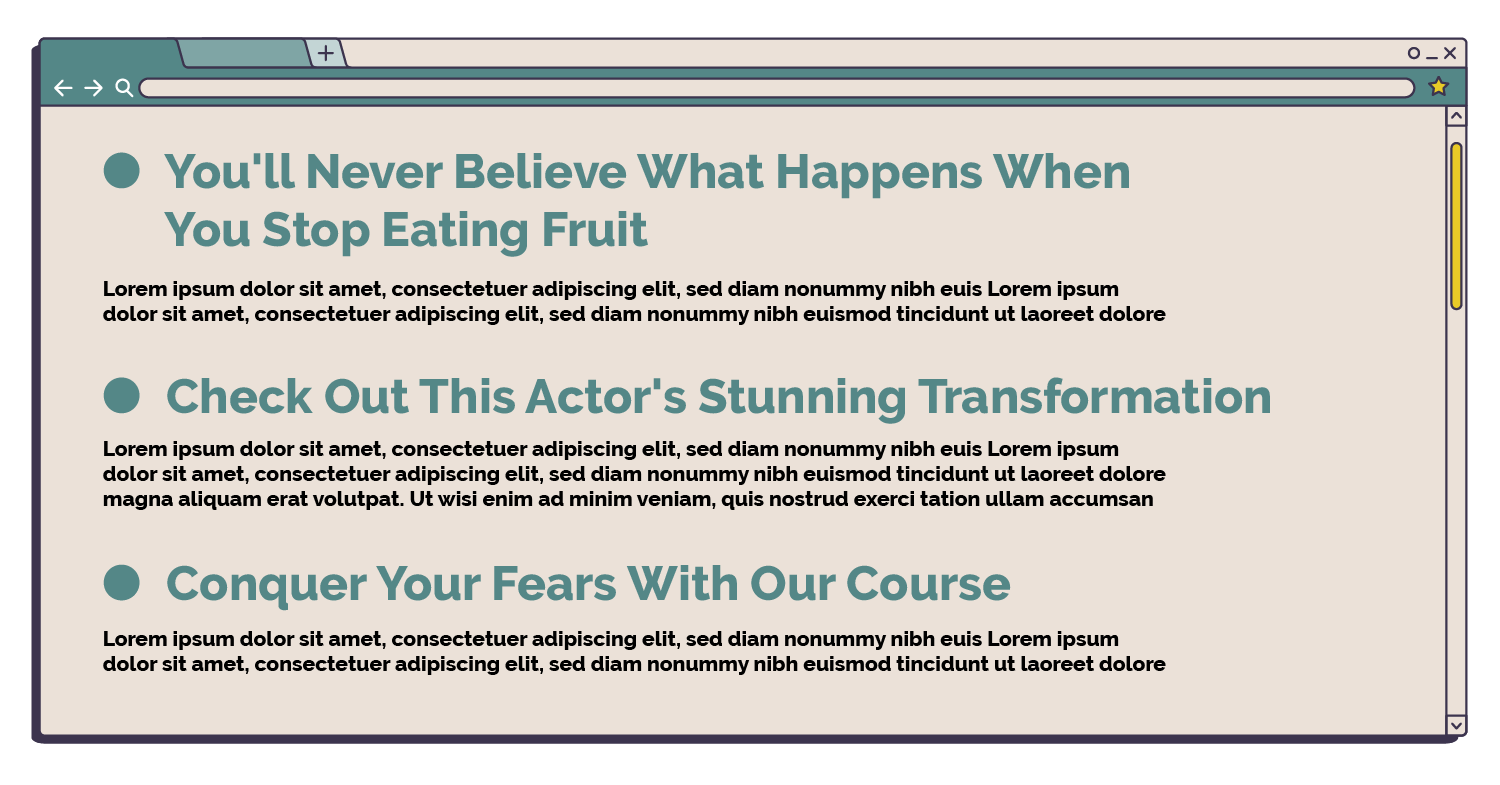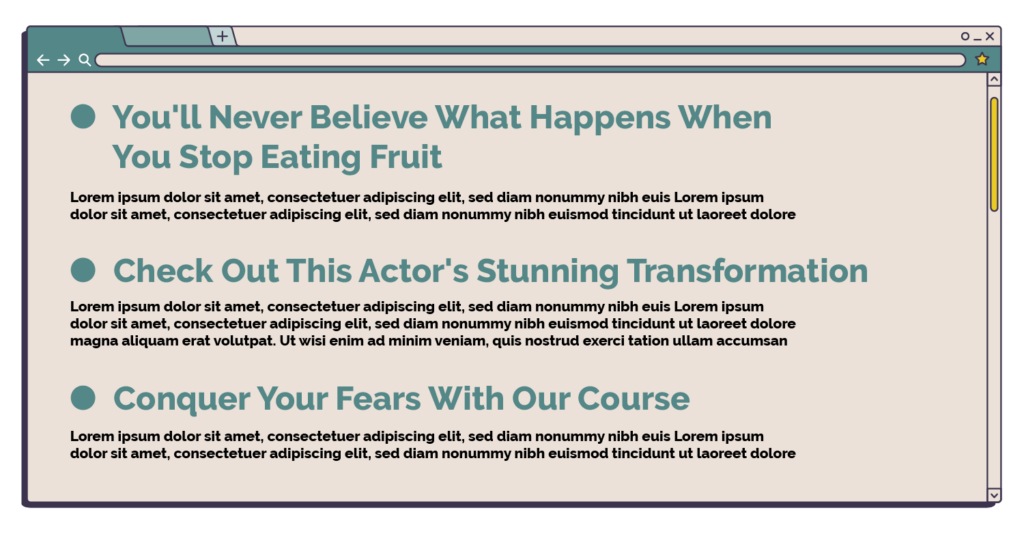 4. Emotional Headlines
Your readers are people, meaning they have emotions. A title that appeals to their emotions will compel them to click and learn more. Use emotional words, aka "power" words, in your title to boost your CTR. Here are some ideas to get you started:
You'll Never Believe What Happens When You Stop Eating Fruit
Check Out This Actor's Stunning Transformation
Conquer Your Fears With Our Course
5. Numbers
Include a number in your title, particularly if you're making a list. Numbers provide concreteness and make your content more tangible to readers. They also make a clear promise. Readers know they'll get 5, 7, or 9 tips about a subject when they click through.
Is there a magic number to use in your titles? Yes, as it turns out: 7. For whatever reason, 7 is the number that leads to the highest conversion rates. If you can't use 7, try another odd number, as odd numbers are more compelling than even ones.
Work With ZGM to Boost Your Click-Through Rate
A great, catchy title is just part of boosting your CTR. If you're ready to get more leads and conversions but need help figuring out what to do next, Zero Gravity Marketing can help. Contact us today to learn more about how our digital marketing services can increase your click-through rate.