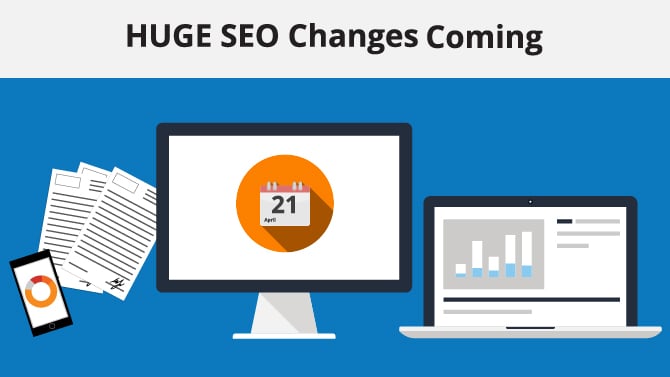 Big Changes in SEO Starting April 21st 2015
When you want your website to continue to rank highly (who doesn't?), you have to keep up with the latest SEO news, and make sure your website is doing everything is can to stay on top. Google's search algorithms change frequently, and if you aren't ahead of the curve, you may be losing sales. To help you out, we have put together the most recent and upcoming changes to Google's ranking signals:
Mobile Has Never Mattered More
One of the biggest buzzes in SEO news is Google's announcement that they are taking your mobile-friendly factor a lot more seriously come April 21, 2015. Why the change? As you know, Google's goal has always been to provide their users with the best experience, so if they are searching for something on their phone and they are shown a less-than-mobile-compatible site, they won't be too happy. According to Search Engine Journal, this is what Google will be looking for when considering your website's new ranking in search results:
There is no software that is not compatible with all mobile devices (bye-bye Flash)
The font size is large enough to read without having to zoom in
The design is sized appropriately so users don't need to scroll to the side to see the entire page (Hint: responsive website design will take care of this for you)
The hyperlinks are spaced far enough away from each other so the user can easily tap the right one
Apps Now Have Clout in the SERPs
More and more companies are investing in creating apps for their users—you may even have one yourself. Never to be left behind, Google is now going to be ranking the content from apps in their search results. This means that someone could search your keywords through the Internet browser on their phone, and then be shown a link on the results page that will take them straight to your app. Pretty sweet, huh? But there are a couple caveats:
The app must be indexed with Google
The user has to have the app installed and they must be signed in, otherwise you won't show up
Loading Speed Is Important
The final big SEO change that has come to fruition in recent months is that Google is apparently starting to tag certain sites that have slow loading times, as reported by Search Engine Roundtable. Your site has to be really slow to get this don't-click-on-me-or-you-might-regret-it tag, but it's worth investigating your site's loading time to be safe. Page speed has been a ranking factor for some time, but this tag makes it much more evident to onlookers that you should be avoided.
What is one SEO tactic that hasn't changed? The fact that content reigns supreme. Even if you have a mobile-friendly, super speedy site, if you don't have compelling content, Google isn't going to care.
At Zero Gravity Marketing, staying up on all of the latest SEO news is one of our fortes. If you don't have the time (or the desire) to scour the web for all of the latest updates, our ongoing SEO service is for you. Contact us today to discover how much it can transform the way you do business.