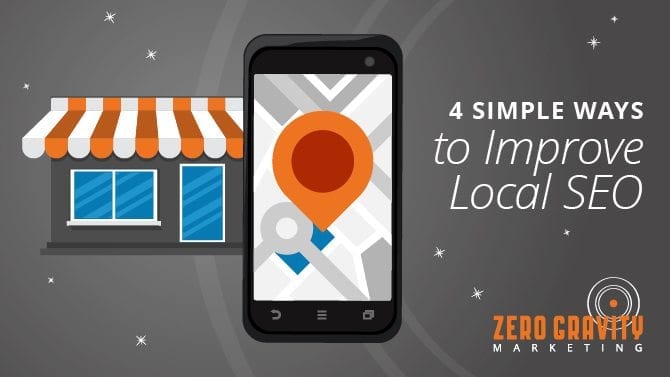 Standing out in a sea of competitors within the city limits sounds a little less intimidating than standing out from all other brands around the world, but it's got its own challenges.
Local SEO is its own kind of animal, and getting it right can mean big profits for your company—both from selling to locals and visitors. Keep these 4 local SEO tips in mind as you revamp your marketing strategy this year.
Get listed in the Google My Business directory.
Google My Business is a directory that confirms and lists legitimate businesses for searcher convenience. Claim your Google My Business page by going to google.com/business and beginning the application/verification process.
GMB boosts your business's perceived authority, always a plus in the SEO game. And if you're optimized well enough, you might even get lucky and get listed in Google's local 3 pack, or the first 3 search results that pop up when someone searches with terms that may apply to you.
Create local content.
What sounds less daunting: competing with all spa and massage companies on earth, or competing with spa and massage companies in your town?
Obviously, for local SEO, we went to stand out on the town/city/state level. The best way to do that is to create local content that views your industry and services through the lens of your location.
That means creating content not just about spa and massage services, but also about Charleston, South Carolina, or New York City, or Key West, or wherever you are. It could be as simple as making a list of the top 10 things to do while visiting Key West. That way, when someone searches "spas in Key West," you should be one of the first to pop up.
Sponsor a local event.
Sponsoring a local event is a great way to:
create a stir and gain attention for your brand;
show your customers you're neighborly and socially invested in the community; and
gain press for your event, resulting in inbound backlinks to your website—which is huge for SEO.
And it doesn't have to be anything fancy! It could be as large and structured as a 5k race or craft fair—or as small as a pumpkin carving gathering.
Ask for reviews to boost local SEO.
70% of customers will leave a review if you ask them to, so get asking. I don't know about you, but the reviews and star ratings on Google are the first thing I look at when I'm looking for a restaurant or shop to go to. These insights matter—not just to customers, but to SEO, too.
Get customers to leave reviews on your Facebook page and google my business page. Because reviews increase your perception of legitimacy and authority, it's very likely the presence of GMB reviews positively affect local SEO.
Think Big to Improve Local SEO
Just because we're thinking on a small scale geographically doesn't mean we shouldn't think big everywhere else. Ask yourself: what else could you be doing to stick out around town? Will you use these 4 tips yourself, or will you outsource your SEO to an expert like Zero Gravity Marketing? Call us now to learn how to dominate local SEO.