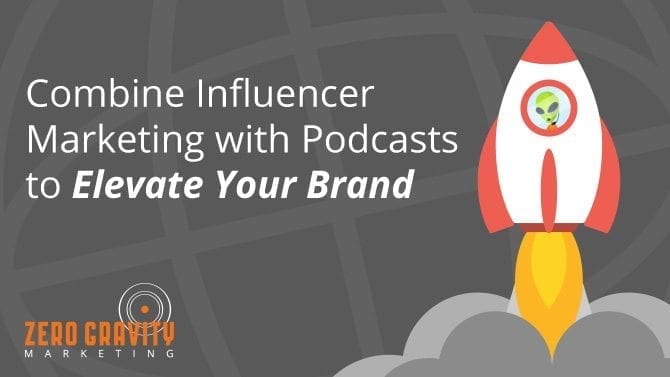 Combine Influencer Marketing with Podcasts to Elevate Your Brand
Influencer marketing is one of the most effective ways to get your brand in front of your target audience. Work with an influencer in your industry who already has a loyal following. When they mention your product or service, their followers listen, and you increase your brand's awareness tenfold.
Influencer marketing isn't just effective on social media. With the continual increase in podcast popularity, you can get your brand in front of an entirely new audience using these strategies:
Get Interviewed by a Top Podcaster
Podcasters are looking for people to interview just as much as you want to be interviewed. Find a few top podcasters in your industry and ask if they would like to interview you as an expert in your field. Make sure to center the interview around you helping the audience with valuable information instead of making it a sales pitch. People tune into podcasts to be entertained or to learn—not to be sold to.
Ask a Podcaster to Try Your Product/Service
Another way to use influencer marketing in the podcasting world is to have a top podcaster try your product or service for free and then have them mention you on air. Again, it's not about them selling your product to their audience, it's about them talking about how much they enjoyed it. Since their fans trust them, they will be curious about what is being said, and will likely seek out more information on their own.
Advertise with Podcasts
Most people who run podcasts also have a website. The website allows the visitor to listen to replays, look up more information about what they heard, and learn more about the podcaster. Since most people are in podcasts to generate revenue, they also display ads on their websites. If you can get an ad on a top influencer's webpage, you can gain a lot of visibility.
Become the Influencer
The final option is to become the influencer in your industry. This route does take substantially more work, but in the long run, it is also monumentally more effective. A loyal podcast audience will translate into substantially more activity on all of your other marketing channels. Not only that, but once you have an audience established, people will be coming to you to mention their brand, and you could have a whole new revenue source.
We think that podcasts have only begun to explore their potential, and they offer a huge opportunity for influencer marketing. To learn more about podcasts and to stay ahead of the marketing curve, contact Zero Gravity Marketing today.