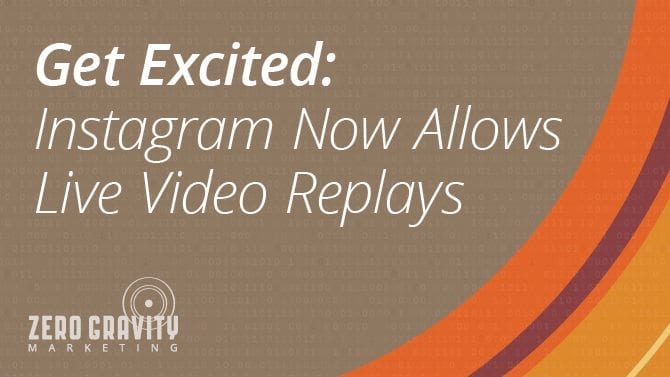 Instagram joined the live video game back in November, and they copied Snapchat's see-it-live-or-miss-it approach. But with the Stories daily audience now reaching over 250 million people, Instagram has decided to give the option of live video replays.
Instagram's Stories Feature Is a Big Hit
Back in August of 2016, Instagram added a feature they call Stories. This feature is similar to Snapchat, in that it allows users to post videos and photos that can only be seen for 24 hours and then they disappear, and they don't show up on profiles. The Stories concept was an immediate hit, garnering over 100 million daily viewers by October. Perhaps the Stories were popular because they got a top slot on the app's screen, or maybe it was because viewers felt like they were seeing exclusive content. Whatever the reason, it is working. Instagram's daily audience for Stories has now surpassed Snapchat's daily audience.
What Happened with Live Video Before
Because of its tremendous popularity, Instagram decided to add the option of live video to Stories back in November. However, these live streams would only appear in the Stories feed when the video was actually live. Once it ended, it was gone forever. This is great for some things, but when it comes to social media marketing, the option to extend the time it is visible can lead to a way bigger audience getting to soak in the content.
How the New Feature Works
Because of its popularity, Instagram decided to add the option for brands and individuals to repost their live stream for 24 hours after it was originally recorded. So how does it work? It's quite simple. After your live stream ends, you will be given the option to share your video or discard it. If you share it, it will be displayed within your Stories feed for the next 24 hours, and viewers will even be able to rewind or fast forward in 15-second intervals and send you a message. If you choose discard, it will disappear into the depths of the cloud forever, just like before.
We love how Instagram still gives users the choice instead of just assuming everyone wants their live video to be seen for 24 hours, because there is something super appealing about the see-it-or-miss-it approach. However, when it comes to social media marketing, the general rule is the more people who see your live stream, the better. And since the video is still only available for 24 hours—and not forever like on other platforms—your followers will still get that feeling of exclusivity. In our opinion, the option to share live video for 24 hours is a win-win.
To learn more about Instagram's new live video feature, or for help with any aspect of your social media marketing strategy, contact us now.