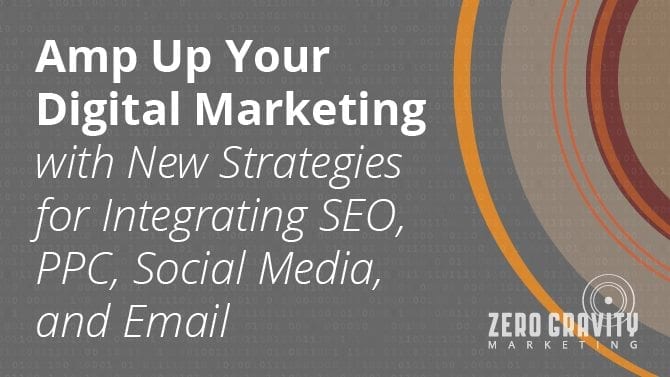 We've said it before, and we will say it again: the world of digital marketing is ever changing, and if you aren't staying ahead of the curve then you are behind it. With the year more than halfway over, it's clear that the online landscape is shifting yet again, and integration is the name of the game. By using one form of digital marketing to improve the others, you can earn higher rankings, more website traffic, and increased conversions.
Optimize Everything
As you surely know by now, mobile searches are surpassing desktop searches by a lot—and the gap gets bigger every day. Chances are you already have a responsive website, but are your social media accounts and email marketing materials also designed with mobile in mind? Make sure every type of content you put out there will work well on a mobile device. Keep the text at a readable size for a small screen, make sure all of the content loads quickly, and ensure the navigation is clear and the button links are not too small to click.
Use Mailchimp to Make the Most of Your Email Marketing
There are so many tools out there to help you with your digital marketing efforts, and one of our favorites is MailChimp (there are some other email automation tools you can use as well). MailChimp performs many of the previously manual tasks for you so you can focus on strategy. And since today's Digital Marketing landscape is all about integration, MailChimp is also compatible with Facebook and Intragram ads. Some of the key analytics that we use from MailChimp include:
Knowing exactly what part of your email marketing materials the user clicked on. Was it a promo code? An image? Whatever it was, you can now use that information in your next email to them.
Targeting specific keywords in email marketing campaigns to see which ones receive the most clicks. By comparing different keywords, we can see which ones get the highest click-through rate, and then use those keywords in your other SEO efforts.
Improve Social Engagement to Improve Rankings
Social media engagement and analytics can be used the same way as email marketing. You can test keywords and click-through rates within your posts to see which keywords get the best response, and then translate that data as applicable. Additionally, you should give some extra attention to youtube. Not many companies are using YouTube as an SEO tool, but it can be very valuable to increase your rankings—especially since video content is continuing to rise in popularity. Plus, it's easier to rank high on YouTube than it is on search.
Build Blogs Around Topics, Not Keywords
While the SEO world has been all about keywords for a while, Google cares even more about showing valuable content to its users. To make sure your blogs are considered valuable, choose your blogs by finding interesting topics. Some ways to brainstorm topics include looking at the questions and comments on social media and looking at your most successful PPC ads. Then, once the topic is decided, figure out which keywords would be a good fit and work them in.
Remember that Backlinks Are Still Very Important
Backlinks are still one of Google's most reliable ways to determine the clout of your site, so it is still crucial that you include them in your SEO strategy. One highly effective way to earn quality backlinks is by building relationships with top influencers in your industry on social media. Once you have made a connection, offer to write a guest post for their site, or ask them if they would consider talking about you in a post.
Compose Longer Blog Articles
Google continues to stress that longer articles are preferred. When your post is around 2,000 words, it is more valuable to the searcher because it includes more information. And it is more valuable to you because it keeps the reader on your page longer, which improves your metrics. That being said, longer articles still have to be created for skimming. Incorporate ample subheads and bullet points so the long length is not intimidating to visitors.
Send Link Juice to Lower Ranked Pages
Internal linking is one of the best things you can do for your site. When you link to unpopular pages via your main pages, you are increasing the possibility that these pages will also rank. As Ricky Weiss, an SEO Strategist at Zero Gravity Marketing, points out, these pages should be targeting different keywords, so you won't be competing with yourself. Additionally, this internal linking will make navigating your site easier for both the user and the search engine bots.
Understand Your Competitors
You know that you need to be constantly studying your competitors to see what SEO strategies they are implementing, but don't forget about reviewing their social media accounts as well. You can even sign up for their email lists to get a more in-depth look at what they are doing to attract and retain customers.
Revamp Old Content
If you haven't heard of the skyscraper technique, you are missing out on a prime opportunity to get instant attention for your blog posts. Essentially, the skyscraper technique means finding past content of yours that is very popular with readers (look at social shares, bounce rate, etc.), and re-write the content to make it even better. By improving on a past article, your new article will attract even more attention. Just make sure it is 100% unique so you don't get dinged for duplicate content.
At Zero Gravity Marketing, we have experts in every facet of your digital marketing strategy. We work as a team to get you the traffic and conversions you are after. To learn more about how we can integrate your SEO, PPC, social media marketing, and email marketing, contact us now.