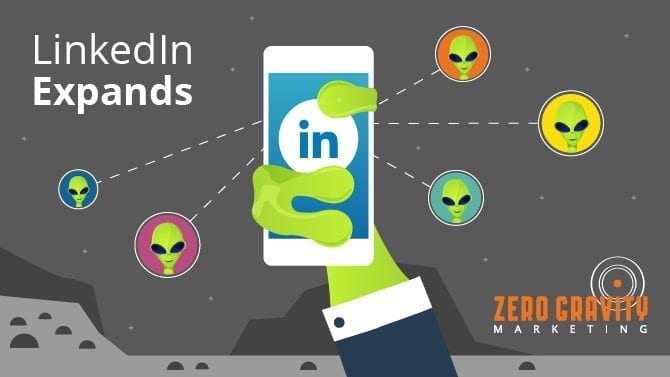 Facebook always makes headlines when it launches a new feature or showcases a fresh page design for its profiles. Instagram is constantly gaining attention for its plethora of perfectly filtered photographs, and Twitter is widely used as a source for reporting the news as it happens. These two are often considered the most exciting and most-talked-about social networks, and LinkedIn is typically thought of as the professional networking site on which you post your resume in hopes of connecting with industry professionals.
That's all about to change. The ever-reliable professional networking is expanding, and people are getting excited about the LinkedIn marketing possibilities within this social network.
3 Ways LinkedIn Will Evolve
Online training courses will have a larger presence on the site.
In 2015, LinkedIn made a big purchase — a $1.5 billion purchase, to be exact. Through this deal, the social networking site acquired Lynda.com, an online training website. Since that purchase, LinkedIn has slowly been incorporating more online training courses onto its network. Some courses are available for purchase, while others are free; all of them are designed to help professionals get the training they need to acquire new skills. Some social media marketing experts believe that at some point, LinkedIn will even allow its users to upload their own training programs to the site.
Content will be encouraged as part of your LinkedIn marketing strategy.
Users can now write and publish their own blog posts on the platform, and the most engaging and popular content is published on the LinkedIn news channels. This encourages professionals to become social media management experts, and it provides them with an opportunity to learn how to embed high-quality content and visual components into their blogs so as to generate the most activity and feedback. In addition, those who publish blogs and other content on LinkedIn can use the social networking site's analytics to track their progress and evaluate their social media marketing strategies.
A freelance marketplace will be developed.
One of the latest projects launched by LinkedIn, ProFinder, is a search tool that connects those interested in a particular product or service with a qualified professional who can assist them. ProFinder is becoming the go-to freelance marketplace site, because it has access to the endless data supplied by LinkedIn, and it is known for its relevant, useful results. The search filters allow people to hone in on the exact type of professional they need, including refined searches based on recommendations within their network or professionals in a specific city, state or country. In this way, LinkedIn is hoping to help professionals directly connect with one another to form business partnerships.
LinkedIn is hoping to engage its users in more interactive ways, and this is welcome news for those who utilize social media marketing strategies to promote their personal brand and further their careers. To find out more information about social media management and the ways that it can impact your professional development, contact us today at Zero Gravity Marketing.