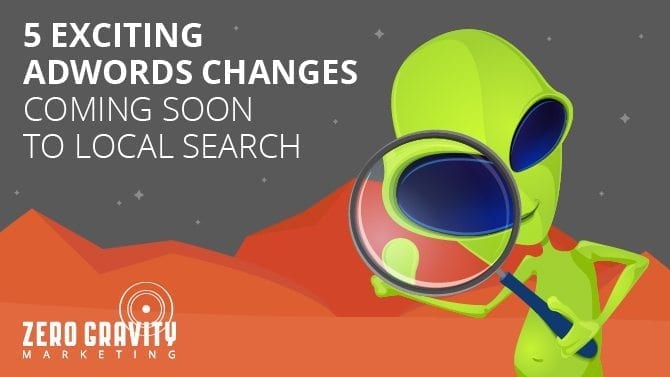 5 Exciting AdWords Changes Coming Soon to Local Search
Mobile-first is Google's mindset these days, with good reason. It's well-known that more searches are taking place on smartphones and tablets than on desktops, and the gap between the two only increases when local search is involved. When people are out and about looking for somewhere to eat or shop, they pull out their phones and head to Google. To capitalize on the mobile phenomenon, AdWords has several updates in the works that will greatly impact local search:
Ads in the Local Pack
As it stands now, if someone performs a local search on Google, they will be shown a few text ads (if applicable), followed by the local pack: a map with corresponding pins around the user's location. The local pack is the place to be in organic search, as it is easily the most viewed—and clicked on—part of the SERPs. In an unofficial announcement (an insider tweet from the SMX Advanced Local Workshop on June 21), Google has stated that an ad will soon take the first spot in the local pack, followed by two organic search results. This prime placement is sure to lead to incredible click-through-rates and expanding clientele.
Ads on Google Maps
While the above change affects the maps shown in the SERPs, this one is arguably even a bigger deal: When a user pulls up the Google Maps app to search for a nearby business, companies can pay to have their logo show up on the map itself. But wait, there's more: You can also have a short teaser shown ON THE MAP. So if you are having a 30% off sale, everyone who views Google Maps in your area will know about it.
Improved Analytics
One of the biggest complaints of local search is the lack of data available. You are probably getting customers because of your AdWords campaign, but you don't know it because they physically came into your store instead of clicking on a link. But Google is determined to change this. By using the phone's location history, Google will be able to connect people who viewed your AdWords ad with people who visited you in person. So cool.
Responsive Display Ads
If you have ever created a campaign for AdWords, you know that you have to create separate ads for each format available, such as square ads, leaderboard ads, skyscraper ads, etc. Soon, you will give AdWords the headline, description, image, and of course URL, and they will adjust your ad accordingly as it shows throughout the Google Display Network.
Changes to Device Bidding
Lastly, it seems like AdWords is finally going to change the bidding process, letting users bid independently for the device type they are after, meaning,  you can choose completely separate bidding amounts for each device. Even tablet bids are getting their own category, giving you better control of where your dollars are going.
The above changes to AdWords for local search just make us giddy. We can't wait for more details to be unveiled so we can start putting them to good use. To learn more about how you can use AdWords to improve your local search efforts, contact Zero Gravity Marketing now.