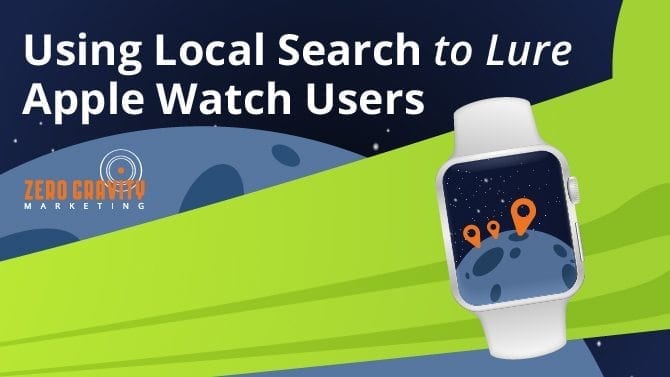 Using Local Search Techniques to Lure Apple Watch Users
Capitalizing on local search for the Apple Watch has the potential to increase your foot traffic.
Local Search Matters
4 out of every 5 people start with a search engine when looking for a local establishment. More importantly, fifty percent of those people who conducted the search on their smartphone went to a local store that day—and 18% ended up making a purchase. Clearly, it's important to make sure you show up on these searches, and with Apple Watch, the next steps of making a phone call and receiving instant directions make the process even more flawless for searchers.
Local Search and Apple Watch: Made for Each Other
Not only does the Apple Watch make it effortless for searchers to take action when performing a local search, it features something called haptic feedback. Essentially, haptic feedback integrates with Apple Maps to allow the Apple Watch to give you physical signals on your wrist as you drive—such as a tap on the wrist or a buzzing sound—so you know where to turn without taking your eyes off the road. The advanced feature relies on the Siri interface, which is connected to Bing's local search results.
Optimizing for Local Search and the Apple Watch
If people are turning to their smartphones and smartwatches to locate your business, then it's your job to up your ante on the local search results. Here are a few Apple Watch SEO tips to get started:
Confirm your listing on Apple Maps. Remember, the Apple Watch doesn't use Google Maps, so you can't rely on your information on Google to translate. While there is no profile to create for Apple Maps, you will want to make sure your information is all listed and up to date.
Get listed on Bing. While Google is still the search engine giant, when it comes to Apple Watch, Bing is king. Take the time to claim your business on Bing Places, while also double-checking your Google listings (Maps, Google+) to cover all your bases.
Consider special promotions for Apple Watch users, like digital coupons that they can pull up on their wrist while they are in your store.
With Apple Watch, and the influx of many other brands of smartwatches, becoming mainstream, it's time to take notice. By improving your showing in the local search results, you can capture the mobile audience and improve your conversions. To learn more about local search SEO tactics, contact Zero Gravity Marketing now.