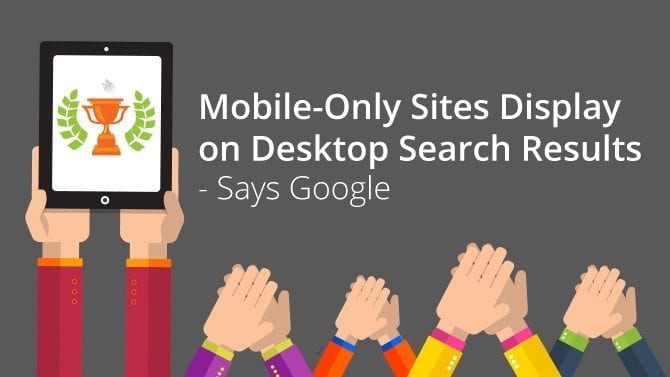 Importance of a Mobile-Friendly Website
Mobile devices are no longer considered an alternative to the desktop computer. More people are using their smartphones and tablets as their primary piece of technology to search, stream videos and cruise through social networks. It's becoming increasingly clear that all websites need to be optimized for mobile platforms, or you simply will not be reaching your target audience.
Mobile Sites will show on Desktop Search Results
With that in mind, many developers, SEO experts and business professionals are wondering: Is it okay to only have a mobile website? According to Google employee John Mueller, the answer is yes.
During a Google hangout John Muler was asked:
"If we have a product only & only for Smartphone so we decided to only make Mobile Website for the same (no desktop version of the site). How can we do the SEO for the same as from few articles I understood that desktop version is mandatory."
This is John Muler's full, unedited answer:
"So you can have a mobile site that's just mobile, that's perfectly fine. That's not something where you need to have a desktop version for any website, you can have a website that is only mobile it will still work on desktop browsers, of course maybe the display will look a little bit different, but you can have a mobile only website and that's perfectly fine you can do that in search like anything else. I think what I try to make sure there is that it still works on desktop, that it doesn't just show an error on desktop but rather that someone on a desktop can still access it, because what will generally happen is we will just include the mobile site in our search results like any other site and we will also present it to desktop users. So just make sure that desktop users can still see some of your content. That's perfectly fine. You definitely don't need a separate desktop website in addition to a mobile website."
The takeaway? We already knew that desktop sites are removed from mobile search results, but now we understand that mobile sites are NOT removed from desktop search results, generally. We may conclude that there is no need to have a separate desktop website and mobile website, as your mobile website may earn the same rankings on desktop search results.
It's important to note, however, that you should check your mobile website on a desktop platform. You will want to make sure that it displays content and is still user-friendly for anyone who wants to access it on a desktop. Ultimately, in order to earn the highest rankings and satisfy your customers, your content needs to be readable and accessible.
Responsive Websites are the Solution
Instead of mobile sites versus desktop sites, your best option is to focus on creating a cohesive, informative and easy-to-use responsive website. Responsive websites can identify screen sizes and adjust themselves accordingly, so no matter what device someone is using, your website is user-friendly.
If you've been thinking about it, perhaps now is the best time to take the plunge. Creating a responsive website could be the best step for increasing business. Contact Zero Gravity Marketing today for more information.