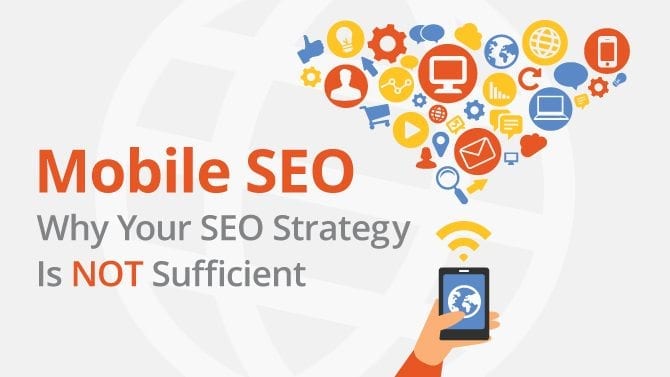 Mobile SEO – Why Your SEO Strategy Is Not Sufficient
As a website owner, you probably already know the importance of SEO. You've spent countless hours, and probably countless dollars, optimizing your website so it will rank well in the search engines.
So, what happens when your clients go mobile? Statistics show that an increasing number of Americans are using their mobile devices as their primary means for accessing the Internet. Can those users find you?
Unfortunately, your SEO efforts may not be sufficient as part of a mobile SEO strategy, and this can cost you business. If you are relying on your website's SEO to help you rank well on mobile, then you are going to fail. Here's what you need to know about Mobile SEO.
Geographic Tags Are Crucial
People use their mobile devices when they are out and about to find local businesses. By 2015, experts believe that mobile local search will overtake desktop local search as the preferred method to find local businesses. Adding a geographic tag, such as your city or state, to your title, tags and keywords will help you rank well for the people who are searching for you at the time when they need exactly what you offer.
Make Your Site Responsive
Is your site ready for mobile traffic? Is it responsive, so that it adjusts to the mobile-optimized version when people are accessing it via mobile? Not doing this can actually hurt your mobile rank.
When a user comes to your site from the mobile search listing, clicks on it, then leaves it immediately, it tells Google and the other search engines that the website does not offer what the user wants for that key term. If that "bounce back" happens repeatedly because your site is not mobile friendly, your ranking will suffer. You must have a responsive, mobile-friendly site to reach this audience.
Make It Fast
Remember the problem with bounce back? Well, this is a problem if your site is too slow, as well. Mobile users are in a hurry, and you need to make sure your site loads quickly enough. Google recommends that your most important content is delivered above the fold within one second of clicking the link. Of course, speed will depend on the mobile user's connection, but do what you can on your end to ensure the site loads quickly.
Optimize for All Mobile Search
Most mobile SEO tactics, as with online SEO tactics, focus on Google, but what about the vast number of users who use another search engine when on their phones? Siri, for example, is quite popular because of how easy it is to speak your search request. Make sure your mobile SEO strategy is friendly for other search engines as well. Siri SEO is just as valuable as Google SEO when you are targeting your mobile audience.
Don't Rely on Apps
Apps may make it simpler to get content to your audience, but they have one major flaw – mobile search engines cannot search the content in an app. Make sure your content is accessible via your mobile site, and focus on your app later.
The mobile web is here to stay, and it is changing the face of SEO. Your SEO strategy is going to need to adapt to keep up with these changes. By staying current with SEO news, you will be poised to rank well, no matter what change Google throws at you.
---