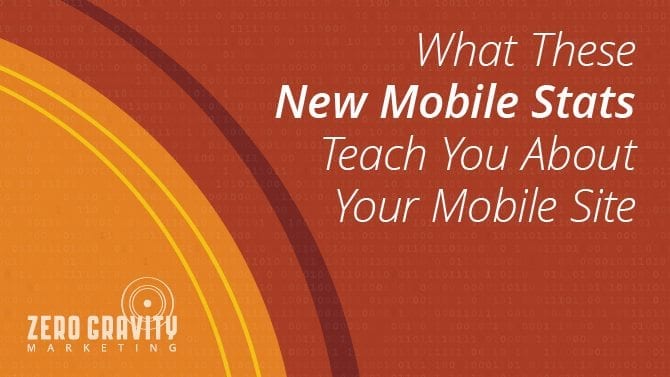 Google released new mobile stats that show as time goes on, mobile marketing expectations go up. In evaluating these mobile stats you can learn a lot about how to improve your mobile site. Here are some marketing lessons from the latest mobile stats:
Fast Is the Only Option
There is no longer room in the market for a slow-loading website. In fact, if it takes longer than three seconds for your page to load, the mobile stats say you will lose a whopping 53% of visitors. As of now, the average mobile site takes 22 seconds to load, so there is an enormous amount of room for improvement. And these mobile stats apply to all industries. Whether you have a vacation-booking mobile site, you offer informative articles, or you provide online banking, your customers demand speed.
But there are even more mobile stats to back up this theory. Recently, Google analyzed nearly 1 million landing pages of brands that participate in AdWords, and the relation to page load time and bounce rate is astonishing. If a page took three seconds to load (versus an instant load), the bounce rate went up by 32%. At five seconds, the bounce rate went up 90%, and by ten seconds, the bounce rate had increased even higher.
Less Is More
It's not only load time that impacts the performance of your mobile site. According to Google's recent mobile stats, as the number of elements on a page went up, the conversion rate dropped dramatically: A word, title, or image counts as an element. More specifically, a page that had 6,000 elements had a 95% lower probability of a conversion versus a page that only had 400 elements. So keep your mobile site succinct.
Leaner Is Better
Finally, the size of each element makes an astounding difference in your loading time. Google's mobile stats show that over 70% of pages contained over 1MB of data—just one mobile page. Thirty-six percent were over 2MB, and 12% were above 4MB. To translate that into load time, one-and-a-half megabytes takes over seven seconds to load on a good 3G connection. You should make it a top priority to compress all of the images and text on your mobile site to cut back on its size.
As the new mobile stats show, the speed and size of your mobile site is crucial to improve your bounce rate and conversions. To learn more about how to increase your site's speed, contact Zero Gravity Marketing today.