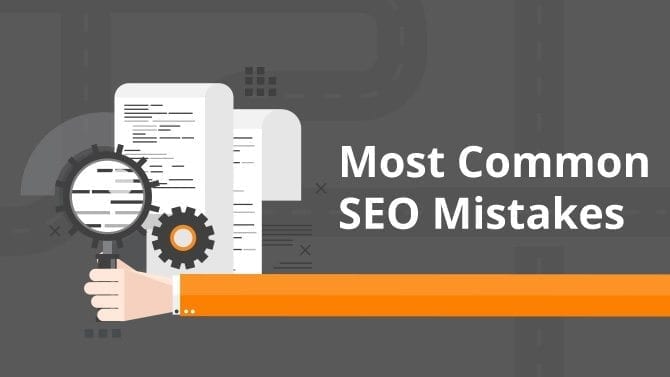 What are considered the best search engine optimization practices is constantly evolving. What may have worked well in the past could be considered harmful today. Additionally, there are myths circulating about the best way to get your website to the top of the search engine results. Are any of these common SEO mistakes and myths harming your website's visibility in search?
1. Mistakes in the Meta tags.
Any time spent filling your keywords tag is time wasted; search engines don't look at the keywords tag anymore. However, you do need to take care when creating Meta titles and descriptions. Your Meta title is the title that your site will have in the search engine; make it keyword rich and descriptive. You should also have a short, enticing description tag. This tag provides the content for your page's description in the SERPs. Check out our posts on title tags (Best Title Tags for Search Engine Optimization and Creating the Ideal Title Tag for Your Business) to sculpt the most accurate Meta data, or contact us for professional SEO.
2. Not paying attention to mobile.
Google hinted for some time that they were going to pay more attention to mobile as more users chose smartphones as their search device of choice. They made good on their promises in April, pulling sites that were not mobile-friendly from the front pages of the search engine results. Read our post about the algorithm change here. A mobile-friendly site is now a must have for effective search engine optimization.
3. Getting caught up on keyword density.
Webmasters have tested densities from .5 to 12% or more and found that keyword density is only one of the many factors that determine page rank for keyword phrases. Google has made it clear that what they want is utility for their users; a site that happens to hit on a specific word or phrase a specific amount of times doesn't necessarily prove to have high rank. Make sure that the search term you want shows up at least once then relax and concentrate on providing value and quality content.
4. Wasting time on poor quality backlinks.
The days when a lot of backlinks from WordPress comments, self-submitted press releases and guest posts on link farming blogs would increase a site's rank are long gone. Instead, focus on creating quality content that users want to read and share. It creates organic traffic and shows the search engines that your site is well respected.
5. Not putting enough emphasis on quality content.
It's not enough to have new content added on a regular basis. The content that you use has to be well-written and useful to potential customers. Google has always been clear that they want to link to quality. Provide it, and you will see your site index better for the terms you want.
In the end, there are no silver bullet tricks for good search engine optimization. But, by creating a quality site and ensuring that you give web surfers and the search engines what they want and need, you can improve your SEO and get your site seen.