Defibtech Digital Marketing Case Study
Located in Branford, Connecticut, Defibtech is a worldwide leader in manufacturing Automated External Defibrillators (AED) to save lives for people suffering from Sudden Cardiac Arrest (SCA). They also manufacture the Lifeline ARM Automated Chest Compression device used for CPR.
Defibtech products have earned many awards for their innovative design, quality, and service. They described themselves as a hidden treasure when ZGM first met them. Defibtech has sold over 450,000 AED units worldwide but is often overlooked by larger brands such as ZOLL, Cardiac Science, Stryker | Emergency Care, and Philips. ZGM's goal was to provide Defibtech with the awareness they needed to increase their brand presence on multiple digital channels, including Search Engine Optimization (SEO), Pay-Per-Click (PPC) advertising, Social Media, and through the creation of product sell sheets.
The Challenge
The primary challenge Defibtech had was its lack of a digital presence in the marketplace. Other than organic LinkedIn, they had not gained any exposure with other social media platforms such as Facebook and Instagram. Their primary sales tool was word-of-mouth and tradeshows. With more people searching online for their specific products, we knew that our client needed to increase their search visibility for AEDs and SCA.
Being a local Connecticut company, Defibtech was looking for a local digital marketing agency that would propel them to the next level with successful campaigns. Zero Gravity Marketing (ZGM) was the perfect partner for Defibtech to help establish its marketing goals. Our team gave 100% transparency in the marketing strategies that were offered to boost its digital visibility.
Defibtech didn't have an active social media presence on any channels. On Facebook, they had many duplicate pages, no access to passwords, and not many page likes. They were only active on LinkedIn.
To add to the lack of digital media presence, Defibtech was missing out on other communication channels – like email marketing.
Outcome
Before working with ZGM, the Defibtech website lacked valuable keywords, site content, and backlinks. After performing an initial SEO audit, it was clear that we needed to lay down the foundational SEO framework since Defibtech had very little organic presence. By targeting highly searched keywords and creating high-quality industry pages, blogs, and more, Defibtech's keyword performance improved, and we started seeing a notable increase in organic traffic to the site.
Once we established a successful on-site SEO strategy, we began working on off-site SEO through guest posting. This has been a critical strategy in improving Defibtech's domain authority (DA), and ZGM continues to work towards this effort.
Focusing on digital strategy and marketing, ZGM has built an ever-growing presence for Defibtech on Facebook, LinkedIn, and, most recently, Instagram. We've changed all social handles to refer to Defibtech, LLC. ZGM has created awareness from the top of the funnel to the bottom of the funnel while educating the general public on the importance of having an AED within reach if someone is suffering from Sudden Cardiac Arrest since it is a matter of seconds for a response to save a life. Following ZGMs recommendations, they're producing frequent social content across communication channels, just like the competitors we identified in the social audit.
To improve their social presence, our strategists have recommended that Defibtech focuses on industry news, products, and building and improving their company culture. In addition, ZGM is running branded PPC campaigns for both LinkedIn and Facebook to build more followers, likes, website visits, and leads. Two specific accomplishments were the AED Package giveaway in December 2020 and their American Heart Month social campaign in February 2021.
In the past two years, we've seen Defibtech's organic traffic skyrocket (January 2021 vs. January 2023):
405.62%
Organic Sessions Increased
528.37%
Organic New Users Increased

Keyword Performance
"AED vs. Defibrillator" (100 searches/month) ranks #1 nationally

"What does AED stand for" (1,000 searches/month) ranks #2 nationally

"CPR defibrillator" (200 searches/month) was not a ranking term before working with ZGM, but now ranks #4 nationally (an increase in at least 50 positions)
The May 2022 SCA In Youth Awareness email campaign had the best key performance indicators (KPIs) of any email sent, an open rate of 44.2% and a click rate of 5.4%.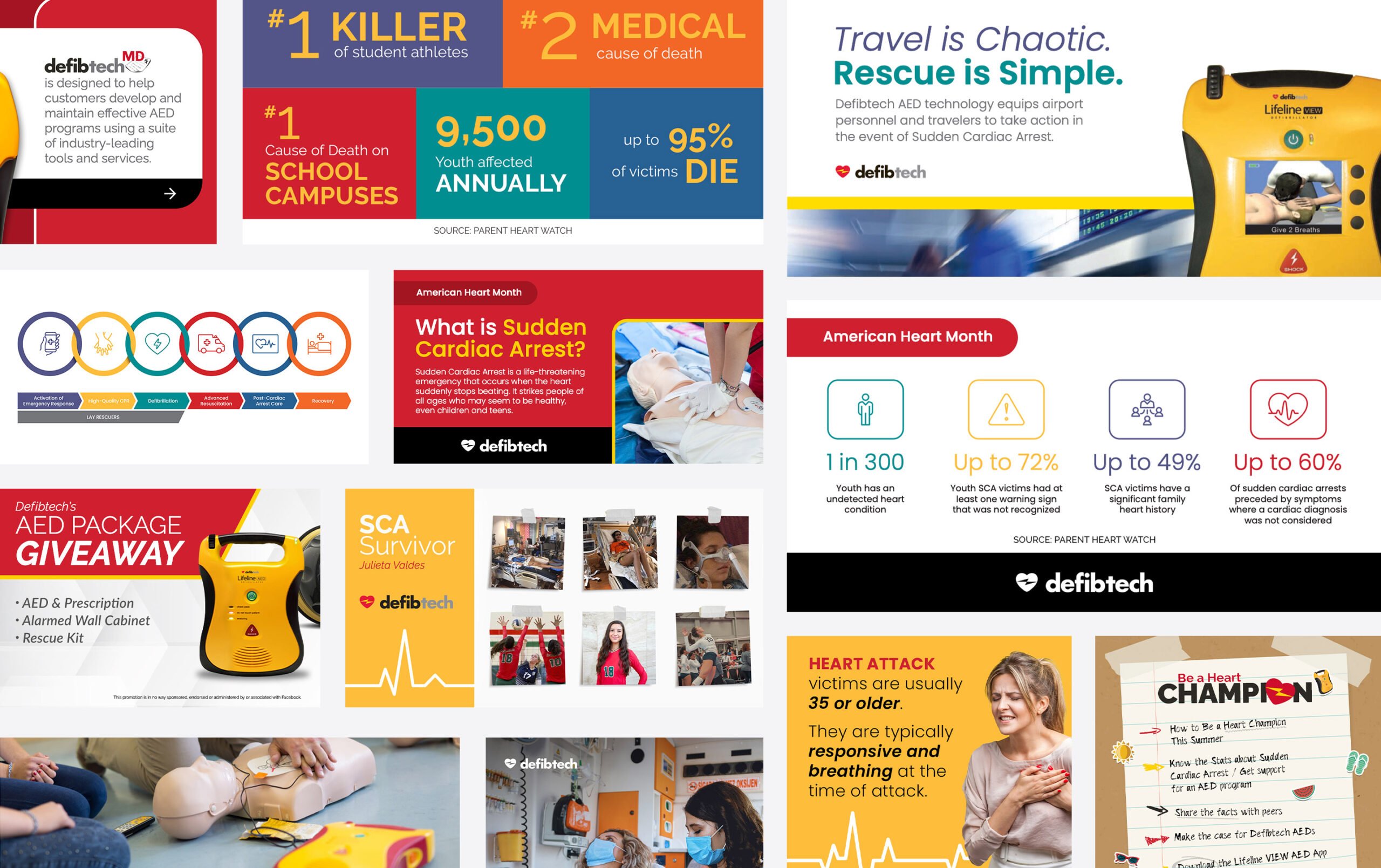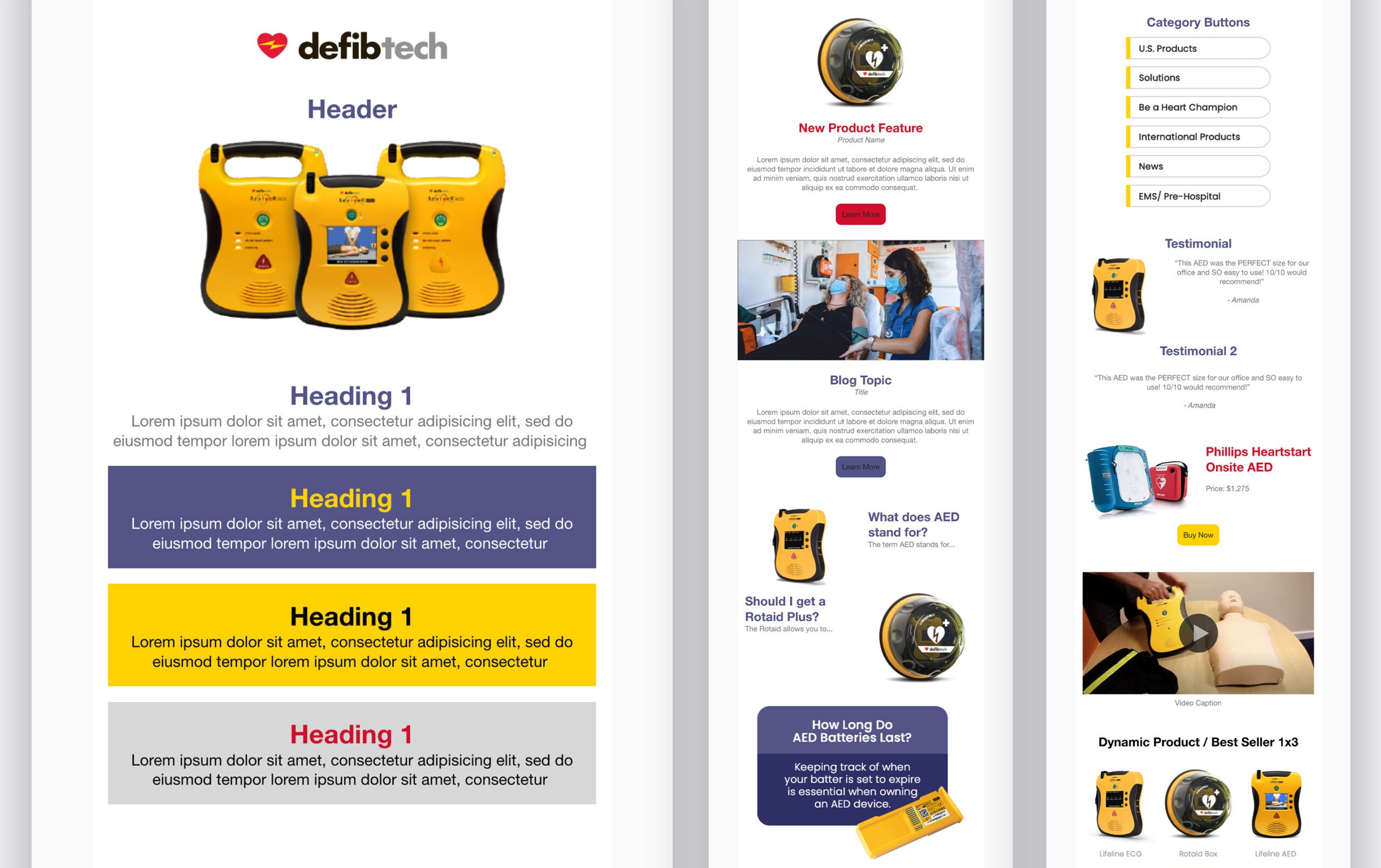 Automation Strategy (Email and SMS)
Our ZGM team spent a good portion of our time on marketing automation. Specifically, we focus on bottom-of-funnel marketing through email and SMS automation. Both of these strategies combined created a very effective lead generation solution and helped in converting visitors from other channels into app users.
ZGM Awards & Recognition