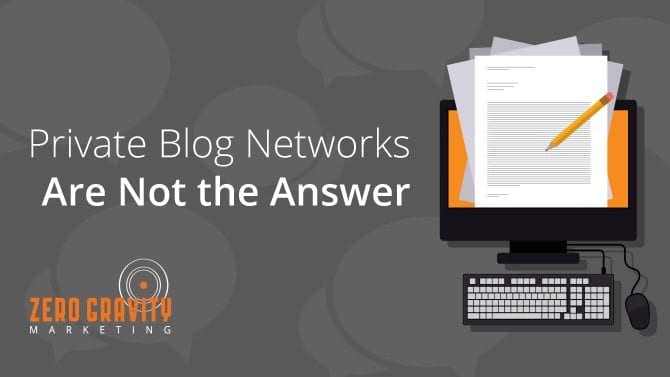 Private Blog Networks Are Not the Answer
We talk a lot about the importance of posting frequent blog posts when it comes to improving your ranking on the SERPs, so when you hear the term private blog networks, it might sound like a good thing to get into. But before you do, you need to learn what exactly private blog networks are, and just how detrimental they can be for your website.
Private Blog Networks Explained
A private blog network is a black hat SEO technique that is used to trick the search engines. Essentially, the same person owns and operates an abundance of websites, with only a few of them as their target moneymakers. They use the rest of the sites to send inbound links to the main website, and they lack any type of content—their only purpose is to send links to the moneymakers to increase their authority in Google's eyes.
Basically, private blog network owners feel like it is easier and cheaper to create their own link juice than to do the work necessary to gain high-quality backlinks. And they are right, it is easier and cheaper, but it is also short-lived and can cut your online venture off at the knees.
What You Risk with Private Blog Networks
It wasn't until September of 2014 that Google caught on to the private blog network scheme, but when they did, they didn't waste any time assessing penalties. If they sense that a site is part of a private blog network, Google will send the Webmaster a notice of a penalty for thin content, informing them that their website offers no value to the searcher and it has been tagged as spam. They will also de-index the site, making it next to impossible to show up in Google. That's a pretty serious penalty. In fact, after the hit, many private blog network owners report a ninety percent decrease of traffic overnight.
How to Move Forward After a Penalty
As you can imagine, when you make Google's blacklist, it's almost impossible to recover. That being said, we have our ways:
First, we disavow all links that are coming from a private blog network.
Next, we add an abundance of content with the sole purpose of engaging and educating your audience.
Then, we completely transform the look and content on your homepage, and add in extra pages, like an about page or a services page.
Finally, we submit your site to Google for reconsideration, explaining that the site has been changed to meet all of their official guidelines.
Usually, this method will help you slowly regain the traffic you used to have, and since the efforts made are legitimate SEO techniques, your ranking will continue to improve as long as new content is added regularly. If you think you have been affected by a private blog network penalty, contact us today so we can begin the recovery process.