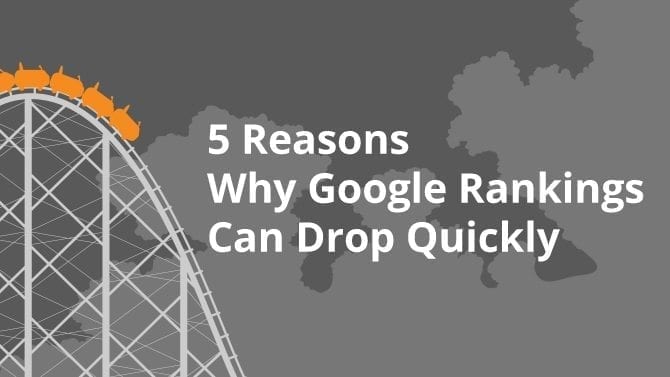 It's every website owner's worst nightmare. Business is fine – until one day it isn't. Your orders are down, your website page views have plummeted. You turn to Google and see your site's been pushed down in the rankings. What happened? More importantly, how can you fix it? Learn 5 common reasons why Google rankings can drop quickly to gain insight into what changed and how to fix your site.
5 Reasons Why Search Rankings Can Drop Quickly
Your website lost links – When authoritative websites link to your website, you receive a boost in SERPs or search engine results placement. If these sites remove their link to your website because they change their content, take down their website or for any other reason, your site loses those links and can drop in Google rankings. When you focus on building your brand and nurturing relationships, you will naturally attract high-quality links and can buffer the effect of lost links.
You've changed your self-promotion – While Google may not take social shares into account when ranking pages, there's definitely a correlation between how you promote your content and how many views that content gets. The more regularly you share content, the more traffic it receives and the more relevant search engines think it is. Automate social sharing to keep ranking highly.
Google changed their algorithm – When Google makes a major algorithm update, it can send your ranking into free-fall while the effects of the change play out. Recently Google add responsive design to its ranking algorithm. Websites that were not optimized for mobile were demoted, while those with responsive design got a boost in SERPs. It's worth checking Google news to see whether an algorithm tweak might have impacted your site's performance.
Your web content is stale – Google rewards webpages that produce fresh content, so if your site hasn't changed in months or years, you could receive a sudden ranking drop for this reason. If you're not blogging to increase brand awareness and integrate keywords, this reason might convince you. A blog is a ready source of fresh content to keep your site high in SERPs. If you notice pages that used to rank high no longer do, it might be worth revisiting those pages and tweaking their content to freshen it.
Your competitors have gotten better – Your website is only as good (or as bad) as similar websites that would turn up in a user search for a keyword. Just as you worry about search rankings and try to improve your SEO and page rank, so do your competitors. If they do a better job, your website could drop in rankings as a result. To avoid this position jockeying, always be looking for way to improve your ranking via a vis the competition.
Now that you know common reasons why websites drop suddenly, you can make moves to improve your search rankings and keep business growing. Contact ZGM for more information.