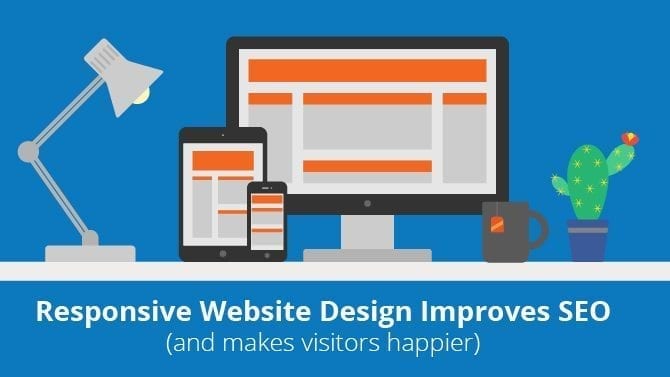 Starting April 21, Google is going to be upping the importance of having a mobile-friendly website in a big way. They figure that since so many searchers are performing their inquiries on a smartphone, they better make sure they are producing the best results for this medium. Because we all know there's nothing worse than not being able to view part of a website because it is not made for mobile.
So you can either make two different sites, one for desktop and one for mobile, (not advisible) or you can opt for responsive website design. Responsive website design, (like most of our websites built with WordPress) will adapt based on the screen it is being shown on. If someone is viewing your site on their desktop, it will look amazing, and if they pull it up on their phone, it will look just as incredible. Still not convinced? Here are the top benefits of a responsive website design:
Improve SEO
Yes, we already mentioned this, but it's worth bringing up again. When your site works well on a mobile phone, Google is going to rank it higher than your competitor's site that doesn't. This has been a ranking signal for a while, but Google is really upping its importance next month—and it's going to be a worldwide change, so you better be on board.
Keep Users Happy
As important as it is to appease Google, it's even more important to keep your visitors happy. This is something responsive website design excels at. Since it instantly changes based on the device, you won't have to worry about a user getting frustrated with the functionality of your site and abandoning it.
Save Yourself Time
When you choose a responsive website design on WordPress, you don't have to worry about designing multiple versions of your site (a www.yourdomain.com and an m.yourdomain.com). Not only that, but you won't have to bother with maintaining both a desktop and mobile site. One change updates both at once – since they are the same site!
Decrease Load Time
Imagine you have two separate URLs, one for desktop and another for mobile. What do you think happens when someone enters your desktop URL on his or her mobile device? Your site automatically redirects them to the mobile version, which takes time. But with responsive website design, mobile websites don't take any longer to load than the desktop versions—which keeps both the search engines and the user pleased.
Do you have a responsive website design on WordPress? If not, you better act quickly. The April 21st deadline is rapidly approaching, and the last thing you want is for your site to take a big hit because you didn't upgrade your site. Contact Zero Gravity Marketing today so we can get your responsive website design up and running quickly.