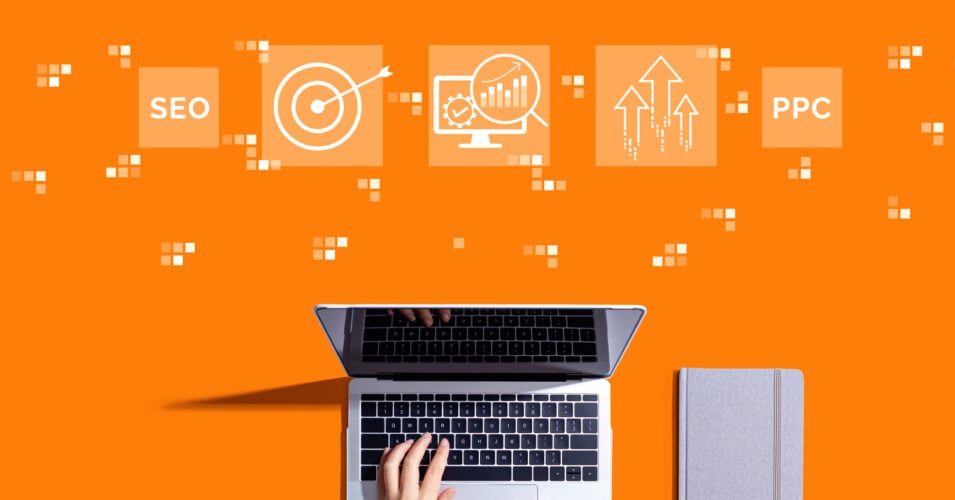 Updated on April 21, 2023
When marketing your business, we've all asked ourselves the same question: Should you use search engine optimization (SEO) or Pay-Per-Click (PPC) ads to promote your services or products? Both sides have their positives and negatives. Some say SEO takes too long to get results, others say PPC is too complicated. The truth is that both are valuable, and you can get the most value from either by pairing them.
Where should you start with SEO and PPC? Learn how to use both to boost your overall digital marketing strategy.
What Is SEO?
Sometimes called natural or organic SEO, search engine optimization is the process of improving the copy and performance of your website so it ranks higher in search engine results. The better your site's search rankings, the more likely people will find it when searching for relevant keywords.
The beauty of organic SEO is that it's mostly free. You don't have to pay for that click when someone clicks on your site from a search engine result. However, you do have to invest time and energy into developing and implementing an SEO strategy. Since it can take time to see results from the strategy, many people think, "Why bother?"
SEO is worth it in the long run, as it puts your site out there, raising awareness and establishing credibility.
What Is PPC?
PPC, or Pay-Per-Click, is a form of advertising that requires your company to pay every time a visitor clicks on an ad. It has some things in common with SEO, mainly that they both use keywords. However, unlike SEO, you pay to put your ad front and center.
In other words, if SEO is the tortoise, working slowly and steadily in the background, PPC is the hare. It'll get your digital marketing strategy off to a quick start and will deliver visitors to your site almost immediately.
Why Marry SEO and PPC?
Should you keep SEO and PPC separate? Absolutely not!
For the best results, we recommend marrying SEO and PPC, using the two strategies together for optimal results. Here's why.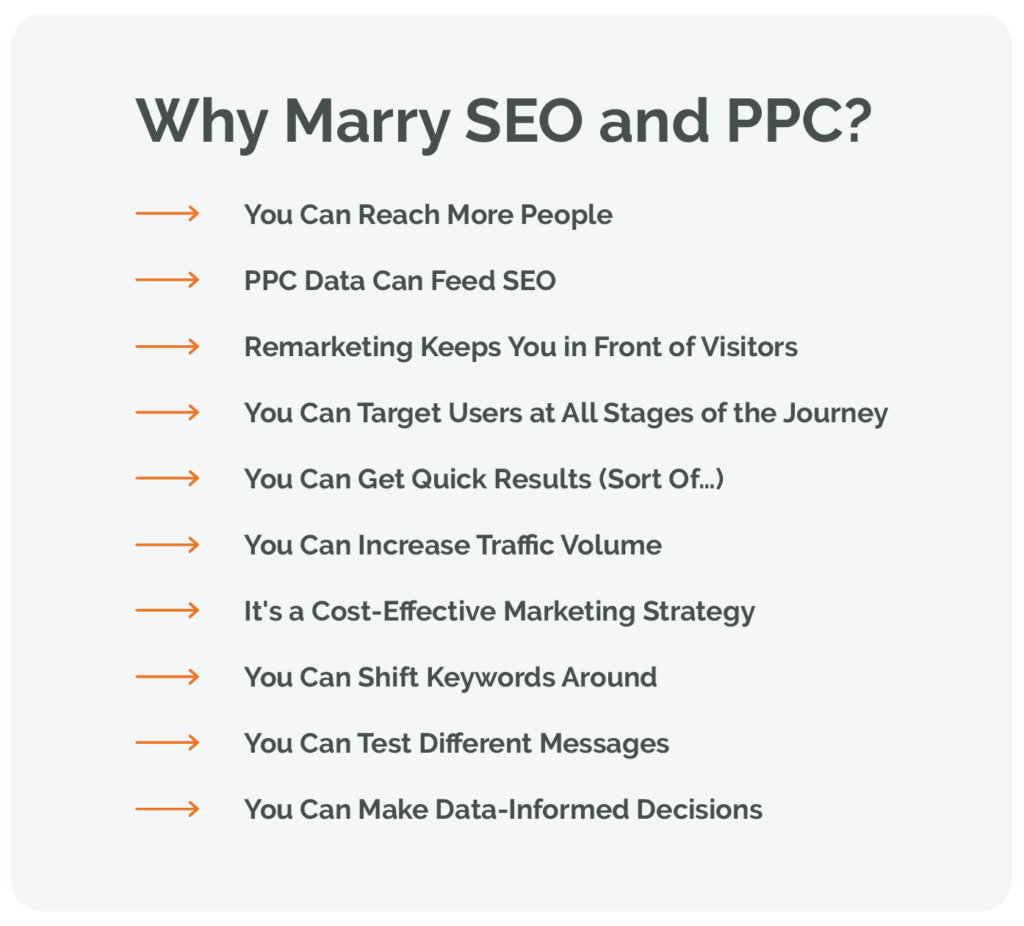 You Can Reach More People
The audience for PPC and SEO is slightly different, but it does depend on what part of the funnel you're targeting. PPC can help you connect with people who may not be familiar with your brand, but it's also a great way to remarket to people who have already had some interaction. Then, there's SEO, which is a great evergreen or top-of-funnel strategy to attract people who might not know who you are. For example, a common use of PPC is to choose keywords a competitor would use for its SEO campaign. Your ad appears above the search results of your competitor, getting the word out there about your brand. Then, on the other hand, you can use more targeted "come back" language and SEO keywords to bring back people who have already explored your offerings to convince them why they should buy or sign on with you.
PPC Data Can Feed SEO
In some instances, you can get more data from PPC than from SEO. For example, you can see what PPC keywords lead to the most conversions. You can then use that data to improve your SEO campaign.
Remarketing Keeps You in Front of Visitors
Remarketing is a crucial part of PPC and SEO, keeping your brand in front of visitors after the initial contact. After someone's found your brand through organic search, you can use remarketing ads to keep or regain their attention.
You Can Target Users at All Stages of the Journey
Do you want to reach people at the top of the sales funnel, midway through, or near the bottom? With combined SEO and PPC, you can reach everyone thanks to highly targeted keywords.
You Can Get Quick Results (Sort Of…)
You can get a paid media campaign up and running in minutes and instantly see results. SEO takes a bit longer but delivers long-term and lasting benefits when done correctly.
You Can Increase Traffic Volume
Using PPC and SEO increases your traffic volume by targeting clicks in organic or paid searches with the best-performing keywords.
It's a Cost-Effective Marketing Strategy
A dual SEO-PPC marketing strategy lets you maximize your marketing budget. PPC helps to supplement your SEO, keeping your brand front and center on the search results page, even if you dip a bit in the organic results.
You Can Shift Keywords Around
Some keywords cost more than others for PPC, based on their competitiveness. If you're getting good results from pricey keywords, you can implement them into your organic SEO to reduce costs but still get similar results. You can also incorporate low-converting but important keywords from your PPC campaigns into your SEO strategy.
You Can Test Different Messages
Using PPC and SEO simultaneously lets you A/B test ad and landing page copy. You can test a message with paid ads, evaluate its performance, then decide to incorporate it into your long-term SEO strategy.
You Can Make Data-Informed Decisions
When you use SEO and PPC together, you get a lot of data. That data provides you with awareness and confidence to make decisions about the future of your brand and its marketing.
Contact Zero Gravity Marketing for SEO & PPC Services
SEO and PPC combined will deliver the best return on investment for your marketing efforts. Zero Gravity Marketing can help if you're unsure where to start. We're a full-service digital marketing agency in Connecticut. Contact us today to learn more about our top-rated SEO and PPC services.