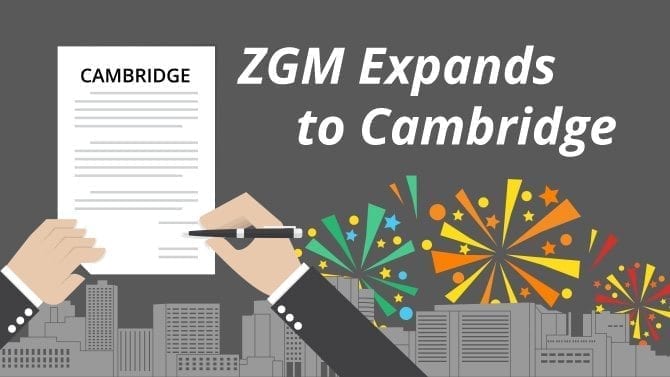 Zero Gravity Marketing just made a huge move: We've opened our second office for digital marketing and SEO in Cambridge, MA. Why Cambridge? It's a thriving part of the East Coast technology sector and we thought a second Cambridge SEO company office could expand our client base and services to this regional hub.
SEO Cambridge MA – Our New Office
Our new Cambridge SEO company office is located in the heart of the Cambridge Innovation District at Kendall Square. We're right by MIT and the Cambridge Innovation Center, which is home to world-class startups and a thriving entrepreneur community full of talented, passionate people who demand a Cambridge SEO company. We recognized the need to offer full service marketing and SEO in Cambridge MA and took the opportunity to expand our regional presence and grow the Zero Gravity Marketing brand.
Our new office is located on the 14th floor of One Broadway, a short walk from the Kendall/MIT MBTA Station and a 15-minute ride from downtown Boston. We chose this location for its proximity to the thriving pharmaceutical, educational, and biotech companies that call Cambridge their home, as well as its easy Red Line access to the South Boston Innovation District just a few subway stops away.
With the tech savvy atmosphere of both Boston and Cambridge, digital marketing is a natural solution for businesses that want to get noticed, attract startup funding, or stand out from the local niche competition. Digital marketing allows businesses to accomplish all of these goals. If you are a Boston-area business looking for an innovative full-service marketing agency with demonstrated experience with SEO in Cambridge, MA, call us to learn more about Zero Gravity Marketing services.
About Our SEO Cambridge MA Services
Zero Gravity Marketing offers results-driven digital marketing and design services. We put analytics and testing ahead of design to offer user-centered design, SEO and marketing services for top tier clients that truly want to connect and engage with their audience. Rather than add unique design for the sake of being different, we strive to understand our clients' business models and perform user testing to uncover what works and ultimately drive conversions and increase the ROI for our clients. Learn how we work and why we call ourselves a results driven marketing agency.
In addition to SEO in Cambridge MA, we offer a full list of marketing services, including:
We also bring to bear extensive knowledge of the issues facing technology companies and startups thanks to our work with our longterm client Core Informatics. To learn more about any of our marketing services or to make an appointment with our Cambridge SEO company, please contact us today!