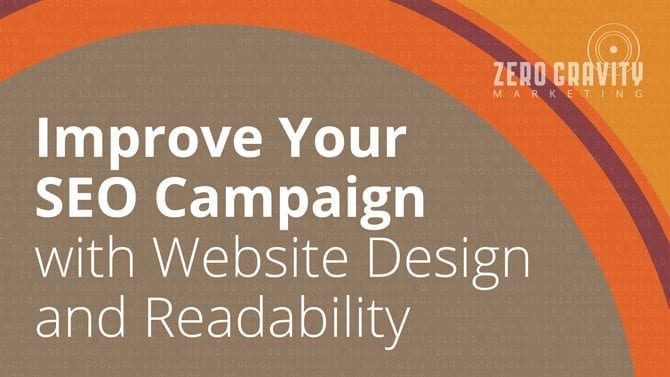 Effective SEO campaigns drive traffic to your website. Once this goal is achieved, it is the job of the website design and readability to convert these visitors into paying customers. When done correctly, your SEO campaign should blend together flawlessly with your website to provide users with a cohesive, positive buying experience.
Search engines are constantly improving, yet their goal always remains the same; to provide searchers with the most relevant results that will lead to an excellent user experience. Which means that even though your SEO campaign is different than your website design and readability, you need all three components to rank well with Google. Here is how to make them work as one:
1. Create Keyword-rich Quality Content
Keywords are crucial to land yourself on the top spot in Google. After all, Google needs to know what you have to offer. However, you absolutely cannot just cram together humdrum content just to get your keywords published. Not only will well-written, entertaining, engaging content keep your readers happy, it will also be recognized by the Panda algorithm and improve your SEO campaign in the process. Write your content in a way that you would actually want to read it. Of course, it also needs to be unique and use proper grammar.
2. Create Effective, Optimized Code
Your website design has two purposes: look appealing to visitors and have high search engine readability. While professional graphic designers can work magic on the outside appearance of your site, it takes a skilled development team to optimize the code from the inside, making it easy to read by the search engines. This includes a thorough XML sitemap, 301 redirects, and schema markup, to name a few.
3. Use Graphics to Emphasize Your Message
While the physical appearance of your website design certainly plays an important role in conversions, truly great graphic design reiterates your brand's message and takes the customer on a journey. It will use images that are associated with your keywords, effective eye paths in the layouts, and it should portray your brand messaging in every detail. And it all needs to be created with readability in mind. Can the visitor easily find the information they are seeking, or do they have to work for it? Can they skim the content to gather key details, or is there so much bulk text that they won't even attempt it?
To get stellar results with your SEO campaign, you need to follow white hat SEO techniques as well as optimize your website design and ensure easy readability. You need all three elements working as one to really see the click through rates and conversions you seek. At Zero Gravity Marketing, we are experts in all areas of effective website design and SEO, and we would love to help you update your website. Contact us now.