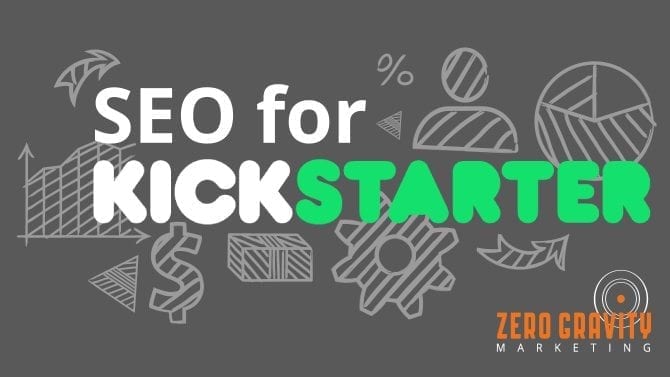 5 SEO Tips to Bring Your Kickstarter Campaign to the Next Level
If you are looking to produce a revolutionary game, create an eye-opening documentary, or launch a technologically advanced product, Kickstarter is likely the site you head to. This crowdfunding site is the go-to location for all creative projects, but unlike other crowdfunding sites, you only receive the money you raise if you reach your entire funding goal. So if you want a chance of seeing your ingenious creation come to fruition, spreading the word about your Kickstarter campaign is crucial—which is why SEO for Kickstarter is a no brainer. Here are our top five tips to get you started:
Begin SEO for Kickstarter in Advance
For a truly successful Kickstarter campaign, you have to begin building up an audience long before you actually launch. Use white hat SEO strategies and a solid PPC campaign to gain fans and followers several months in advance. Post interesting content to your social media pages and website, use PPC ads to garner the attention of your target audience, and encourage everyone to sign up for your email list. For bonus points, work to build relationships (via social media) with the key influencers in your industry now, so when it comes time to launch your Kickstarter campaign the trust is already there.
Hang Out in Kickstarter Forums
Over ten million people have backed a Kickstarter campaign, so it's safe to say the site has quite the following. As a result, there are also several non-associated forums dedicated strictly to the crowdfunding site. Users discuss the current projects being featured, so if you can get them to talk about you, your audience will undoubtedly increase. Again, this SEO for Kickstarter strategy works best if you do it in advance, earning the trust before you have something to sell.
Go Big or Go Home
Once the day has finally arrived for you to launch your Kickstarter campaign, you need to come out with all guns blazing. Put the email list and social media followers you have spent months accruing to good use, and don't be shy. Now is your time to shine. Momentum in the first few days is critical to the outcome of your campaign—if people visit it 10-15 days in and see little support, they won't even waste their time contributing because your chances of getting funded are slim to none.
Establish a Targeted PPC Campaign
After your Kickstarter campaign is live, you need to set up a new PPC campaign that really targets your specific market. Using features like contextual target and managed placements on Google's Display Network, you can make sure that your ad is shown on sites that market comparable products or discuss similar topics. You can even focus your ad dollars on people who have already expressed an interest in Kickstarter.
Put Remarketing to Good Use
The final step of SEO for Kickstarter is to embark on a remarketing campaign. As a reminder, remarketing is when you remind users about your site and/or specific product as they leave your site and go about browsing other ones—even Facebook. These subtle ads will keep your Kickstarter campaign in the forefront of their minds, and can be the difference between a funded project and a failed one.
If you are even thinking about starting a Kickstarter campaign for your next creative project, now is the time to start SEO for Kickstarter. Contact Zero Gravity Marketing to find out what steps you need to take, and when you need to take them, to improve your chances for success.