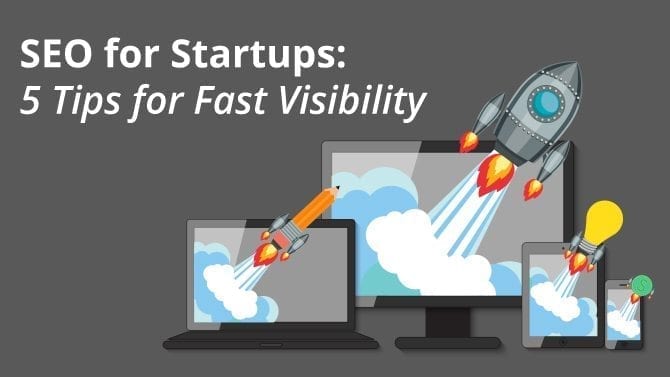 When you want to get your startup off the ground and running, promotion is vital. About half of all visits to a website still begin with a search engine query. If your business is not in the results, you are missing out on valuable traffic that can help you gain traction. Some SEO for startups is in order to ensure that you get the visibility you need to succeed:
1. Go beyond the keyword list.
As search gets more sophisticated, it's more important to think of user intent than it is to just try to rank for keywords. What are customers looking for when they arrive at your site? What sorts of behaviors do you want prospects to engage in? Begin making a concept map and create your keyword list and content around that.
2. Make a site that's technically flawless.
Your site needs to load quickly and be search-engine friendly. Be sure that your site doesn't resolve in ways that can make it look like you have duplicate content. Make sitemaps, send them to Google, and use Google's Webmaster Tools to validate them. Good technical SEO for startups goes a lot way toward getting indexed quickly and ranking high.
3. Content is still king.
Search engines use the content on your site to determine what your pages are about and whether they are useful to surfers. Create content that answers the queries that customers have that would send them to your site. If you are in the business of offering personal shopping services, write blog posts about the timesavings offered, the simplicity of having someone do it for you and common concerns of people considering personal shoppers. By creating fresh content on a regular basis and have it answer surfers' questions, you can increase your chances of ranking well for your search terms.
4. Don't forget social.
Create profiles on Google Plus, LinkedIn, Twitter and other social networks so that they point back to your site. Consider having optimized Google Plus and LinkedIn pages not just for your business but also for people on your team who will be dealing with social. This quickly builds social authority, which is a huge part of SEO for startups.
5. Link it all together.
Train your content writers, marketers and other professionals to add links to other content on your site each time they publish. Ensure that blog posts and articles are promoted on your social media pages. This brings in more traffic from those social networks through direct promotion and social shares. Not only do you benefit immediately from the traffic boost; you gain authority, which increases your rankings. This sort of linking is a vital part of SEO for startups.
You won't get stellar results overnight. But, a dedicated SEO campaign can get your site indexed quickly and help you build the traffic that will get you recognized. By paying as much attention to promotion as to other aspects, you can ensure that your startup thrives. Contact Zero Gravity Marketing.