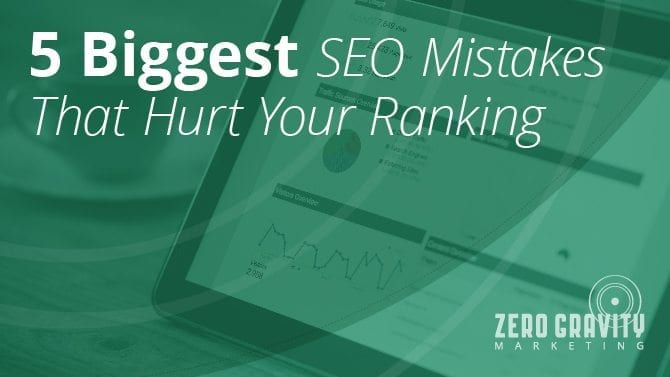 For better or for worse, an SEO campaign is easy to implement but difficult to get right. If your company's website is stuck buried in the search results despite your best efforts, take a closer look at your SEO strategy and see if you're making one (or more) of these top five SEO mistakes.
You've optimized your website for the wrong keywords.
Choosing the wrong keywords for your website is one of the easiest and most damaging SEO mistakes that you can make. Whether it's because you've picked keywords that are too broad and have too much competition or because you've gone with keywords that are too generic and don't target actual customers, optimizing for keywords that don't specifically target your potential clientele is a waste of time. Remember you don't just want to generate traffic; you want to choose keywords that drive the right sort of traffic.
When ranking pages, Google places a high premium on the content offered. Is it unique, informative, educational, entertaining or insightful, or is it an outdated carbon-copy of content that's available elsewhere? Keywords can only take your SEO campaign so far. It may be tempting to recycle keyword-rich content, but Google does not reward stale content with high rankings.
You haven't made your website mobile friendly.
Smartphones account for more than 50 percent of all searches placed through Google, and Google has responded accordingly. The search engine giant's ranking algorithm heavily prefers websites that provide an optimized mobile experience, and sites that aren't mobile friendly are penalized.
You aren't taking advantage of meta title tags.
Using the same title tag for each page on your website may be easy, but doing so means that you're missing out on utilizing one of the most critical tools that determines search rankings. Note that using keywords that are tailored for each page not only helps boost your SEO rankings; it also makes your website more user-friendly and easier to navigate, share and bookmark.
You've ignored the importance of internal links and anchor text.
External inbound links are not the only links that count for search engine rankings. Internal links are just as important–but only if you use them correctly. Creating generic anchor text for your website's internal links such as "click here" or "find out more" wastes a valuable SEO opportunity. Instead, choose anchor text that utilizes relevant keywords, and vary the anchor text that you use from page to page.
Making mistakes when implementing a SEO campaign is normal, but avoiding these blunders is as simple as choosing a skilled and experienced Digital Marketing agency to help spearhead your SEO efforts. As a full-service marketing agency specializing in SEO, PPC, website design and more, Zero Gravity Marketing has the expertise needed to make your SEO campaign a success. Please contact us today to learn more about our digital marketing services.